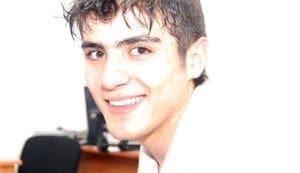 NO FURTHER ACTION IS REQUESTED. MANY THANKS TO ALL WHO SENT APPEALS.
Azerbaijani prisoner of conscience Mehman Huseynov was released on 2 March after having served two years in prison on trumped-up charges of defaming policemen.
Mehman Huseynov, is a prominent blogger and anti-corruption activist, known for his journalistic work denouncing corruption on the part of senior Azerbaijani officials. In March 2017, a Baku court sentenced Mehman Huseynov to two years in prison on charges of defaming an entire police station, after he gave a statement in front of the courthouse in which he described the abuses he had suffered at that police station.
On 26 December 2018, months before his scheduled release, Azerbaijani authorities brought new criminal charges against Mehman Huseynov with the aim to extend his stay behind bars. Following intense domestic and international pressure, the authorities dropped the charges, paving the way for Mehman Huseynov's eventual release on 2 March.
ADDITIONAL RESOURCES