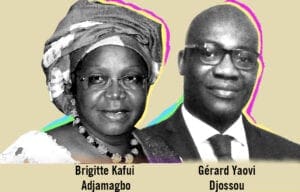 NO FURTHER ACTION IS REQUESTED. MANY THANKS TO ALL WHO SENT APPEALS.
On 17 December 2020, political activists Brigitte Kafui Adjamagbo and Gérard Yaovi Djossou were released from Central Service for Research and Criminal (SRIC) office in Lomé, Togo's capital, under judicial supervision after being arbitrarily detained. Both are members of the Dynamique Monseigneur Kpodrzo (DMK)- a group of opposition parties and civil society organizations in Togo. They were arrested respectively on 28 and 27 November after the DMK called for a demonstration to denounce the results of the February 2020 Presidential election and the judicial harassment of government opponents. They were charged with 'criminal conspiracy' and 'undermining the internal security of the state'.
While Amnesty International welcomes the news of their release, the politically motivated charges against them have yet to be dropped. Their prosecution is solely in connection to their political views and is intended by the authorities to deter opposition members and dissenting voices from freely organizing peaceful assemblies and speaking out against the re-elected President. Amnesty International will continue to monitor the case and will use other tactics to pressure the Togolese authorities to drop all charges against them.
Amnesty International spoke to Brigitte Kafui Adjamagbo and Gérard Yaovi Djossou after their release and both thanked Amnesty for its mobilization efforts.
''Huge thanks to Amnesty, your mobilization was really effective,'' said Brigitte. ''During my detention, my family informed me about all you have done. Thanks so much." said Gérard.
ADDITIONAL RESOURCES