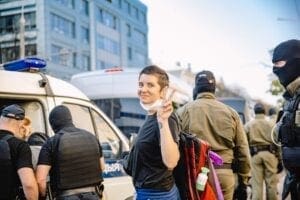 NO FURTHER ACTION IS REQUESTED. MANY THANKS TO ALL WHO SENT APPEALS.
Belarusian LGBT+ activist Victoria Biran spent two weeks in detention under Article 23.34 of the Code of Administrative Offences ('Violation of the procedure for organising or holding mass events') and was released on 11 October. She was arrested on 26 September on her way to the Women's March in Minsk and sentenced on 28 September to 15 days of administrative detention.
According to her friends, when Victoria Biran was arrested and brought to a police station, a law enforcement official gave her a list of names and asked her to point out LGBT+ activists. However, later police claimed that they had had no knowledge of Victoria Biran's LGBT+ activism and had not even noticed her large rainbow flag.
Victoria Biran was first brought to the detention centre on Akrestina street where she was placed in an overcrowded cell, in which some women had to sleep on the floor. On 29 September she was moved to the prison located in the town of Zhodino.
While Amnesty International welcomes Victoria Biran's release at the end of her 15-day administrative detention, Victoria Biran did not commit any offence and was only intending to exercise her rights to freedom of expression and peaceful assembly and should not have been arrested or detained in the first place.
ADDITIONAL RESOURCES