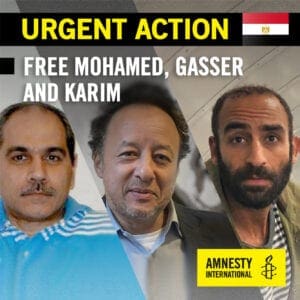 NO FURTHER ACTION IS REQUESTED. MANY THANKS TO ALL WHO SENT APPEALS.
On 3 December 2020, Gasser Abdel Razek, Karim Ennarah and Mohamed Basheer were released pending investigations into terrorism-related and other unfounded charges. Three days later, a court decided to freeze their personal assets following grossly unfair proceedings. They were arrested between 15 and 19 November 2020 by Egyptian security forces and arbitrarily detained at the Tora Prison Complex, in apparent retaliation for a human rights briefing with 13 western diplomats at EIPR's office on 3 November 2020.
Their releases came in the wake of intense campaigning and mobilization involving activists, NGOs, journalists, celebrities, politicians and academics in Egypt and globally. In a coordinated and public response, states in Europe and North America, UN bodies and other multilateral institutions condemned their arrests and called for their release.
However, their release does not put an end to the existential threat facing the human rights community in Egypt. Human rights workers continue to be subjected to travel bans, asset freezes, and criminal investigations under "Case 173" or the "foreign funding case" into their legitimate work and could be sentenced to long prison terms.  Human rights defenders and other prisoners of conscience remain behind bars unjustly pending investigations into bogus terrorism-related charges, including EIPR gender researcher Patrick George Zaki.
Amnesty International will continue to monitor the situation, and campaign for the release of all those detained solely for peacefully exercising their human rights and for an end to the crackdown on the human rights movement in Egypt, including the closure of criminal investigations and the lifting of travel restrictions and asset freezes against human rights workers.
ADDITIONAL RESOURCES