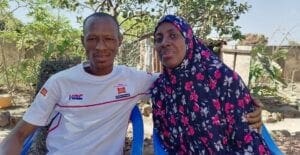 NO FURTHER ACTION IS REQUESTED. MANY THANKS TO ALL WHO SENT APPEALS.
On 11 December 2020, pro-democracy activist and member of the National Front for the Defense of the Constitution (FNDC) Saïkou Yaya Diallo was freed from Conakry prison, Guinea after having served seven months in prison.
Saïkou Yaya Diallo was arrested on 7 May 2020 and charged with "assault, violence, threats and public insults" and transferred to Conakry prison. He was found guilty of the charges and sentenced on 16 November 2020 to one- year imprisonment with five months suspended.
On 25 March 2020, during a FNDC press conference, FNDC members, including Saïkou Yaya Diallo, locked a suspected intelligence agent claiming to be a journalist in an office while waiting for a crowd to disperse outside, presumably to protect the agent from potential violence from the crowd of opposition activists. According to several witnesses, Saïkou Yaya Diallo was not involved in any violence. Prior to his conviction, he was arbitrary detained despite two court-issued release orders.
Following his release, Saïkou Yaya Diallo expressed his gratitude to those who campaigned for his release: "Dear Members of Amnesty, with these words, I would like to express my deep gratitude for all the efforts you have made for my release and for other political detainees in Guinea (…). I urge you to continue to fight for the release of our colleagues who are still in prison, including Oumar Sylla. Amnesty International remains for me the human rights organisation most involved in the restoration of individual rights and freedoms.''
ADDITIONAL RESOURCES