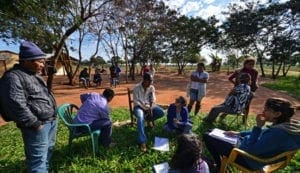 NO FURTHER ACTION IS REQUESTED. MANY THANKS TO ALL WHO SENT APPEALS.
The Ysati Indigenous community "3 de Julio" is one of the communities belonging to the Indigenous Avá Guaraní People. They live in the district of Itakyry in the department of Alto Paraná, southeast of Paraguay. In this area there are overlapping land titles that generate ongoing conflicts between the Paraguayan Institute for Indigenous Affairs (INDI), individual owners, the Paraguayan Industry of Alcohols (INPASA – Industria Paraguaya de Alcoholes SA), and members of the community, placing them at constant risk.
On 3 March 2019, approximately 50 people including landowners accompanied by armed individuals, entered the ancestral lands of the "3 de Julio" community. They burned crops and six homes with all their belongings inside. 55 people, of which 38 are children, were displaced and are all sheltered precariously in a nearby community.
The local Prosecutor's Office initiated an investigation on the 3 March attacks against the Ysati indigenous community "3 de Julio". On the other hand, the INDI provided them with humanitarian assistance on 5 April 2019 and renewed the documents the community had lost during the attack. On 24 June, the INDI filed a formal complaint before the Public Prosecutor's Office for the alleged misuse of the criminal justice system against Ava Guaraní indigenous communities in the context of the overlapping land title dispute with private individuals. The Prosecutor's Office has still to appoint a prosecutor to investigate this claim.
Public campaign on behalf of the Ysaty community, including the Urgent Action appeals and meetings between Amnesty International members and the authorities contributed to positive developments after the attacks, their current overall situation and long-term land case. We will continue to monitor the status of the investigations into the March attacks as well as the situation of the community and will react if further action is required.
ADDITIONAL RESOURCES