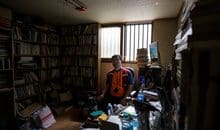 Lee Jin-young, operator of the online library 'Labour Books', was found not guilty of charges under the National Security Law at the Seoul High Court on 11 April 2018. This verdict was made following an appeal by the prosecution to a ruling on 20 July 2017 which found Lee Jin-young not guilty.
Lee Jin-young, labour activist and owner of the online library 'Labour Books', was arrested and detained on 5 January 2017, and officially charged on 3 February, for violating Article 7 of the National Security Law (NSL) after distributing materials that allegedly benefit "anti-government organizations". Held in detention since his arrest, including periods of solitary confinement, he was finally released on 20 July 2017 after the Seoul Southern District Court ruled that he was not guilty.
Following an appeal to the verdict by the prosecution, a second trial was held at the Seoul High Court and the ruling of not-guilty was upheld on 11 April 2018. While the prosecution can appeal one more time, the risk of the ruling being overturned is considered to be small, and the likelihood that Lee Jin-young may again be detained for exercising his right to freedom of expression is rather low.
Thank you to all those who sent appeals. No further action is requested from the UA network.
ADDITIONAL RESOURCES