Held incommunicado for three years, prominent Uyghur historian and publisher Iminjan Seydin suddenly reappeared in a video published by state-run English newspaper China Daily on 4 May 2020. In what appear to be scripted remarks, Iminjan Seydin states that he had not been "illegally detained" and that his daughter was deceived by "anti-China forces". His daughter, who was able to have a brief video chat with him two days later, is concerned that Iminjan Seydin looks very thin and fears she will not be able to communicate with him again as he remains under close surveillance.
TAKE ACTION: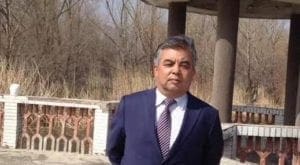 Write a letter in your own words or using the sample below as a guide to one or both government officials listed. You can also email, fax, call or Tweet them.
Click here to let us know the actions you took on Urgent Action 14.20. It's important to report because we share the total number with the officials we are trying to persuade and the people we are trying to help.
Director Tao Hongjun Urumqi Municipal Public Security Bureau No. 30, Nanhudong Lu, Shuimogou Qu Urumqi 830017 Xinjiang Uyghur Autonomous Region People's Republic of China
Ambassador Cui Tiankai
Embassy of the People's Republic of China 3505 International Place NW, Washington DC 20008 Phone: 202 495 2266 I Fax: 202 495 2138 Email:
[email protected]
Salutation: Dear Ambassador
Dear Director Tao, I write to express my concern for prominent Uyghur historian and publisher Iminjan Seydin (依明江·赛都力), who suddenly reappeared in a video published by China Daily on 4 May 2020 after being held incommunicado for three years. Although it had earlier been reported that he had been sentenced to 15 years' imprisonment for "inciting extremism" in February 2019, Iminjan Seydin did not mention in the video whether he was still facing any charges. Instead, his comments appear to have been scripted by the authorities for broadcast on state media. This has increased my concern for Iminjan Seydin's well-being, as it seems that his movements are being tightly controlled and that he remains under strict surveillance. After two days of trying to get in contact with her father, Iminjan Seydin's daughter, who lives in the United States, was finally able to have a video chat with her father for about 20 minutes. This was their first conversation since Iminjan Seydin went missing in May 2017 and, while she said that he seemed happy, it was worrying to hear that he looked much thinner than before and she is concerned that his ability to communicate with her could be cut off at any time. I am gravely concerned that Iminjan Seydin continues to be held under close surveillance and may be at risk of being detained again I call on you to confirm whether there are still charges pending against Iminjan Seydin; stop all surveillance of Iminjan Seydin; and ensure he is able to communicate with family members and others without interference, including with those living in other countries. Yours sincerely,
ADDITIONAL RESOURCES