On 22 May 2019, Thai authorities renewed their crackdown on peaceful protesters by pursuing the prosecution of a group of 17 individuals, including an opposition party politician, for their participation in a peaceful protest outside a Bangkok police station on 24 June 2015. Their gatherings took place during the military government's ban on "political" gatherings of five or more persons. Filing charges against these individuals nearly four years after their peaceful demonstration appears to be a politically motivated decision to silence perceived opponents and has a chilling effect on the rights to freedom of expression and peaceful assembly in Thailand.
TAKE ACTION: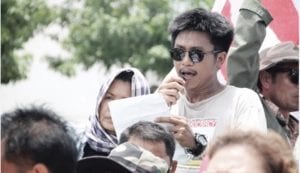 Write a letter in your own words or using the sample below as a guide to one or both government officials listed. You can also email, fax, call or Tweet them.
Click here to let us know the actions you took on Urgent Action 136.15. It's important to report because we share the total number with the officials we are trying to persuade and the people we are trying to help.
Prime Minister Prayut Chan-O-Cha
Office of the Prime Minister Pitsanulok road Bangkok 10300 Thailand Tel: 66 2 618 2323 Fax: 66 2 2825131 Email:
[email protected]
Chargé d'Affaires ad interim Boosara Kanchanalai
Royal Thai Embassy 1024 Wisconsin Ave. NW, Washington, DC 20007 Phone: 202 944 3600 I Fax: 202 944 3611 Contact form:
https://bit.ly/2DYwCp1
Twitter:
@ThaiEmbDC
Facebook:
@Thaiembdc
Salutation: Dear Ambassador
Dear Prime Minister, I write to urge that your government immediately drop charges against the following 17 individuals – Apiwat Suntararak, Apisit Sapnapapan, Chonthicha Jangrew, Jatupat Boonpattararaksa, Payu Boonsopon, Panupong Srithananuwat, Pakorn Areekul, Pornchai Yuanyee, Ratthapol Supasopon, Rangsiman Rome, Songtham Kaewpanpruk, Suhaimee Dulasa, Supachai Pukrongploy, Suvicha Tipangkorn, Thanathorn Juangroongruangkit, Wasant Sadesit and Worawut Butrmatr – brought solely because of their participation in a peaceful assembly on 24 June 2015 outside Pathumwan police station in Bangkok. On 22 May 2019 authorities charged the group with sedition and taking part in a public assembly of more than ten persons that threatens to "breach the peace." They would face up to seven and a half years' imprisonment if found guilty. Thanathorn Juangroongruangkit, leader of the Future Forward Party, would face a further two years' imprisonment for "assisting someone who has committed a serious offense to escape" under Article 189 of the Thai Penal Code, for allegedly giving activist Rangsiman Rome a lift from the police station despite the fact that the protesters were allowed to leave normally. While your administration has lifted a number of sweeping restrictions imposed on a range of human rights, authorities continue to judicially harass and intimidate critics and political opponents and criminalize the exercise of the rights to peaceful assembly and freedom of expression. In line with Thailand's obligations under international human rights law, I urge you to immediately and unconditionally drop charges against these and all other individuals solely for exercising their rights to peaceful assembly and freedom of expression. Yours sincerely,
ADDITIONAL RESOURCES