Three members of the Peacock Generation, a satirical performance group in Myanmar, have been sentenced to six additional months in prison for "online defamation" after sharing their performances critical of the military online. Six members of the group are now serving prison sentences of between two and three years in connection with their peaceful activities; at least three are facing further charges before different courts. All six are prisoners of conscience who should be immediately and unconditionally released.
TAKE ACTION: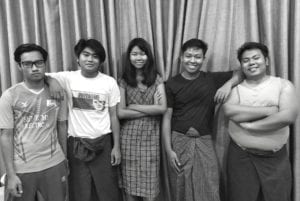 Write a letter in your own words or using the sample below as a guide to one or both government officials listed. You can also email, fax, call or Tweet them.
Click here to let us know the actions you took on Urgent Action 147.19. It's important to report because we share the total number with the officials we are trying to persuade and the people we are trying to help.
President U Win Myint President's Office, Office No. 18 Nay Pyi Taw Republic of the Union of Myanmar Fax: +95 1 652 624
Dear President U Win Myint, I am writing to express my grave concern about the continuing criminal prosecution of members of the Peacock Generation, who have been targeted for their satirical Thangyat performances. Six young performers are imprisoned for nothing other than peacefully exercising their right to freedom of expression. They are prisoners of conscience, and I urge you to ensure their immediate and unconditional release. I am disappointed to learn that three members of the group were convicted on 17 February 2020 of "online defamation" under Section 66(d) of the 2013 Telecommunications Act and each sentenced to six months in prison. These convictions are the latest in a series of jail terms handed down to members of the group for their peaceful performances, some of which were shared on social media. It is highly concerning that six members are now serving between two and three years' imprisonment, and that some of them face further politically-motivated charges for their peaceful Thangyat performances. I am also deeply concerned that peaceful activists and human rights defenders in Myanmar continue to be targeted by a range of repressive laws, including of Section 66(d) of the Telecommunications Act and Section 505(a) of the Penal Code, which arbitrarily restrict the right to freedom of expression. I call on you to immediately and unconditionally release all jailed members of the Peacock Generation and quash their convictions; drop further charges against them and all others who are facing imprisonment solely for the peaceful exercise of their right to freedom of expression;  and repeal or amend laws that arbitrarily restrict the right to freedom of expression, including Section 505(a) of the Penal Code and 66(d) of the 2013 Telecommunications Act, to bring them in line with international human rights law and standards. Yours sincerely,
ADDITIONAL RESOURCES