Sahrawi woman activist Sultana Khaya and her family have been held under de facto house arrest for over six months in their home in Boujdour, Western Sahara. The authorities have yet to present any charges against her. On May 12, 2021 dozens of masked members of the security forces raided Sultana Khaya's house, assaulted and attempted to rape her, and raped her sister. The authorities must immediately ensure that Sultana Khaya and her family are protected from further assaults, lift the house arrest, and open an urgent investigation into the incidents of rape and assault.
TAKE ACTION: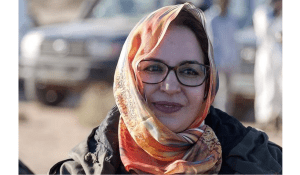 1. Write a letter in your own words or using the sample below as a guide to one or both government officials listed. You can also email, fax, call or Tweet them. 2.
Click here
to let us know the actions you took on
Urgent Action 33.21.
It's important to report because we share the total number with the officials we are trying to persuade and the people we are trying to help.
---
CONTACT INFORMATION
Mr.Saad Eddine El Othmani Head of Government of the Kingdom of Morocco Palais Royal Touarga Rabat 10070, Morocco Fax: +212537771010 Twitter:
@ChefGov_ma
Her Highness Princess Lalla Joumala Embassy of the Kingdom of Morocco 3508 International Drive NW Washington, DC 20008 Phone: 202 462 7979 I Fax: 202 462 7643 Email:
[email protected]
Twitter:
@morocco_usa
Salutation: Your Highness
SAMPLE LETTER
Your Excellency, I am writing to express deep concern about the continuous threats to the safety of Sahrawi activist
Sultana Khaya,
and several members of her family. Sultana Khaya and her family have been under arbitrary house arrest since November 19, 2020, enduring the daily presence of security forces in front of their house, a ban on movement even for few metres away from their house, house raids and physical assaults. In the last month there has been a serious escalation of the crackdown on Sultana Khaya's freedom of movement and physical security: on May 10, 2021 security forces raided her house at 5 am, cuffed her sisters arms and legs, stole valuables including Sultana Khaya's phone and computer. Sultana Khaya told Amnesty International that on the eve of the Muslim celebration of Eid-al-Fitr, on May 12, 2021 dozens of masked members of the security forces entered her house again from the roof. They dragged her on the floor, twisted her arms and tied them behind her back, beat her and tried to rape her with batons. Sultana Khaya said that her sister was also attacked and some of the masked men raped her by forcing a baton between her legs and beat her. She said that security forces had also broke windows and spilled a foul-smelling substance on the house floor, purposefully making the house unhabitable. Prior to this raid, security forces forcibly removed the electricity meter leaving Sultana Khaya and her family with no electricity in an apparent attempt to further isolate the family from the outside world. From the start of her house arrest, the authorities have failed to present Sultana Khaya with an arrest warrant or a court order, or to inform her of the reason for her arrest. She was only told verbally, by the head of the police forces in Boujdour, that she was forbidden from leaving her house. Her and her family's prolonged house arrest amounts to arbitrary detention, and it imposes arbitrary restrictions on their rights to freedom of movement and association. In light of the above, I urge you to immediately end the arbitrary house arrest against Sultana Khaya and her family and respect their right to freedom of movement, expression and association. I further urge you to put an end to the assaults that Sultana Khaya and her family are subjected to, open an investigation into the security forces' arbitrary and abusive force against her and her family, including the report of rape and attempted rape, and provide them with adequate reparation for the violations of human rights to which they have been subjected. Sincerely,
[YOUR NAME]
ADDITIONAL RESOURCES