On 22 October, the Dmitrovgrad town court, in Russia's Ulyanovsk region, rejected the parole application of 21-year-old human rights defender, Yan Sidorov. Yan Sidorov and his friend, Vladislav Mordasov, are prisoners of conscience, serving sentences of four years for trying to organize a peaceful protest in November 2017 in support of dozens of Rostov-on-Don residents who had lost their houses in mass fires. Yan Sidorov is appealing the decision.
TAKE ACTION: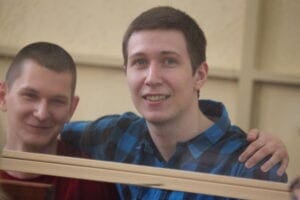 Write a letter in your own words or using the sample below as a guide to one or both government officials listed. You can also email, fax, call or Tweet them.
Click here to let us know the actions you took on Urgent Action 155.20. It's important to report because we share the total number with the officials we are trying to persuade and the people we are trying to help.
CONTACT INFORMATION
Col. Andrei Vladimirovich Ryabkov
Head of the UFSIN for Ulyanovsk Region Address: ul. 12 Sentyabrya, d.95 432017 Ulyanovsk Russian Federation Fax: +78422428129 Email:
[email protected]
Ambassador Anatoly Antonov
Embassy of the Russian Federation 2650 Wisconsin Ave. NW, Washington DC 20007 Phone: 202 298 5700 I Fax: 202 298 5735 Email:
[email protected]
Twitter:
@RusEmbUSA
Facebook:
@RusEmbUSA
Instagram:
@RusEmbUSA
Salutation: Dear Ambassador
SAMPLE LETTER
Dear Colonel Ryabkov, I am writing to you concerning human rights defender Yan Sidorov who is serving his sentence at IK-10. On 22 October, the Dmitrovgrad Town Court rejected his parole application. His defense team has appealed this decision. Yan Sidorov and his friend, Vladislav Mordasov, were arrested on 5 November 2017 for trying to organize a peaceful protest in support of dozens of Rostov-on-Don residents who had lost their houses in mass fires. They were 18 and 21 years old, respectively, at the time. They were falsely charged with "organizing mass disturbances" and following an unfair trial, on 4 October 2019, they were sentenced – Yan Sidorov to six years and six months and Vladislav Mordasov to six years and seven months in strict regime penal colony. On 10 December, the Third Court of Appeal in Rostov-on-Don upheld their convictions. In July 2020, each of their sentences were reduced to four years. Yan Sidorov and Vladislav Mordasov committed no crime and are prisoners of conscience imprisoned solely for exercising their right to freedom of expression and intending to exercise their right to freedom of peaceful assembly. They should be released immediately and unconditionally, and their convictions should be quashed. I urge you to use your authority to support Yan Sidorov's appeal for parole. Yours sincerely,
[YOUR NAME]
ADDITIONAL RESOURCES