In May 2020, the authorities allowed Céline Lebrun Shaath, wife of prisoner of conscience and activist Ramy Shaath, to call him for the first time since his arrest. Ramy has been behind bars for a year pending investigations into accusations of "aiding a terrorist group in achieving its goals", stemming solely from his peaceful exercise of his right to freedom of expression and his right to participate in public affairs. On 18 April 2020, the Cairo Criminal Court decided to arbitrarily put him on Egypt's "terrorist list" for a period of five years.
TAKE ACTION: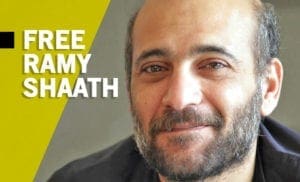 Write a letter in your own words or using the sample below as a guide to one or both government officials listed. You can also email, fax, call or Tweet them.
Click here to let us know the actions you took on Urgent Action 116.19. It's important to report because we share the total number with the officials we are trying to persuade and the people we are trying to help.
Public Prosecutor Hamada al-Sawy
Office of the Public Prosecutor Madinat al-Rehab Cairo, Arab Republic of Egypt Fax: +202 2577 4716 Twitter:
@EgyptJustice
Ambassador Yasser Reda
Embassy of the Arab Republic of Egypt 3521 International Ct NW, Washington DC 20008 Phone: 202 895 5400 I Fax: 202 244 5131 Email:
[email protected]
Twitter:
@EgyptEmbassyUSA
Salutation: Dear Ambassador
Dear Counselor, Prisoner of conscience Ramy Shaath has been arbitrarily detained for a year, since 4 July 2019, pending investigations into the so-called "Hope Case" (Case 390/2019), which involves at least 105 individuals, including politicians and journalists. In May 2020, the Egyptian authorities finally allowed Ramy's wife, Céline Lebrun Shaath, to speak to Ramy on the phone for 45 minutes for the first time since his arrest. Ramy, who is held in Tora Prison, told Céline that he is detained in a 25 square meter cell with 17 other detainees, amid the absence of adequate measures to prevent the spread of Covid-19 among the guards and detainees. Céline, who is based in France, also received assurances from the Egyptian authorities to grant her the possibility to return to Egypt for an in-person visit, once the "health situation allows" and air borders reopen. The Egyptian authorities suspended all prison visits on 10 March as a measure to prevent the spread of COVID-19 but failed to introduce alternative means of regular communication between detainees and their loved ones. Ramy's last visit by Egypt-based relatives was on 4 March 2020. In June 2020, the Egyptian authorities finally allowed Ramy's relatives to send him food and clothes after refusing to admit packages. On 18 April 2020, a terrorism circuit in Cairo's Criminal Court decided to arbitrarily include Ramy on Egypt's "terrorist list" for a period of five years along with 12 other individuals including detained human rights lawyer and former parliamentarian Zyad el-Elaimy. I ask you to immediately and unconditionally release Ramy Shaath as he is a prisoner of conscience whose detention stems solely from peaceful exercise of his right to freedom of expression and his right to participate in public affairs. I also call on you to ensure that all charges against him are dropped and the decision to include him on the "terrorist" list is rescinded. Pending his release, I urge you to ensure that he and all other detainees have regular access to their families and lawyers. Yours sincerely,
ADDITIONAL RESOURCES