Tunisian parliamentarian Yassine Ayari's trial is set to begin on February 14, 2022, before the Military Court of First Instance in Tunis. He is being prosecuted in relation to Facebook posts in which he described President Saied's concentration of exceptional powers as a "coup." In July 2021 he was arrested and spent two months in Mornaguia prison for a case dating back to 2018, after the President's decision on July 25, 2021, to suspend parliament and lift parliamentary immunity for its members. Amnesty International calls for the charges against Yassine Ayari to be dropped and for an end to the prosecution of civilians before military courts.
TAKE ACTION: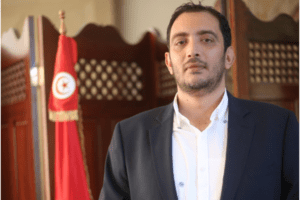 Please take action as-soon-as possible. This Urgent Action expires on March 30, 2022.
Write a letter in your own words or using the sample below as a guide to one or both government officials listed. You can also email, fax, call or Tweet them.
Click here to let us know the actions you took on Urgent Action 97.21. It's important to report because we share the total number with the officials we are trying to persuade and the people we are trying to help.
CONTACT INFORMATION
SAMPLE LETTER Your Excellency, I write to you to express my grave concern over the prosecution of parliamentarian
Yassine Ayari
by the Military Court of First Instance in Tunis. As you will know, under international human rights law, civilians should never be tried before military courts. Moreover, expressing critical views of the authorities is protected by freedom of expression and should not be punished in any way. Yassine Ayari was arrested on July 30, 2021, three days after Your Excellency announced the suspension of parliament and ordered the lifting of parliamentary immunity, to serve a two-month sentence issued by a military court in 2018 for his Facebook posts criticizing the army. He was released on September 22, 2021, but is now facing a new trial, due to start on February 14, 2022, in a case brought against him by the same military court for Facebook posts he wrote on July 25, 26, 27 and 28, 2021. In those posts Yassine Ayari criticized Your Excellency's assumption of exceptional powers, calling it a "coup". He is being prosecuted under Articles 67 and 128 of the Penal Code. which mandate prison terms and fines for "offense against the head of state" and for "accusing a state official of illegal acts in the course for carrying their duty without offering proof", respectively. He is also being prosecuted under Article 91 of the Military Code of Justice, which mandates up to three years of imprisonment for acts that "insult the army, harm military discipline or morale, or criticize the decisions of military leadership or undermine its dignity, and for the unauthorized disclosure of information on military affairs". Yassine Ayari is being tried and may be imprisoned for exercising his right to freedom of expression and expressing his opinions online. His political criticism is protected under Article 19 of the International Covenant on Civil and Political Rights (ICCPR), which Tunisia has ratified. Amnesty International is concerned that at least nine other civilians are being investigated or prosecuted by military courts in Tunisia for a range of offences, including four -Yassine Ayari among them – who are facing the military justice system for expressing views critical of the President. I urge you to ensure that the charges against Yassine Ayari are dropped and to end his military prosecution, which stems from his peaceful expression online. I also call on the authorities to end the prosecution of civilians before military courts. Sincerely,
[YOUR NAME]
ADDITIONAL RESOURCES