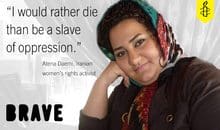 The health of Iranian women's rights activist, Atena Daemi, has sharply deteriorated. After 46 days on hunger strike, she is critically ill and her body has started rejecting water. Despite doctors' warnings, the authorities are still refusing to transfer her to a hospital outside prison for specialist medical care. She is a prisoner of conscience.
1) TAKE ACTION
Write a letter, send an email, call, fax or tweet:
2) LET US KNOW YOU TOOK ACTION
Click here to let us know if you took action on this case! This is Urgent Action 127.15
Here's why it is so important to report your actions: we record the actions taken on each case—letters, emails, calls and tweets—and use that information in our advocacy.
ADDITIONAL RESOURCES