Imprisoned Iranian human rights defender Narges Mohammadi, who suffers from serious pre-existing health conditions, is showing suspected COVID-19 symptoms. The authorities are putting her health and life at risk by denying her health care and holding her in inhumane conditions. She is held solely for her peaceful human rights work and must be released immediately and unconditionally.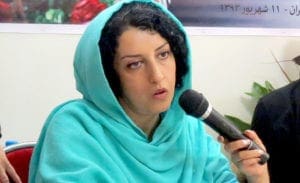 TAKE ACTION:
Write a letter in your own words or using the sample below as a guide to the government official listed below. You can also email, fax, call or Tweet them.
Click here to let us know the actions you took on Urgent Action 105.15. It's important to report because we share the total number with the officials we are trying to persuade and the people we are trying to help.
Head of Judiciary Ebrahimi Raisi c/o H.E. Majid Takht Ravanchi
Permanent Mission of the Islamic Republic of Iran 622 Third Avenue, 34th Floor New York, NY 10017 Phone: 212 687-2020 I Fax: 212 867 7086 Email:
[email protected]
Twitter:
@Iran_UN
Dear Mr Raisi, Ailing human rights defender Narges Mohammadi, unjustly jailed since May 2015, has been suffering from suspected COVID-19 symptoms, including coughs, shortness of breath, muscle and joint pain and loss of smell since 29 June. Authorities continue to deny her health care and refuse to inform her of the results of a test taken on 8 July. This is putting her health and life at risk, particularly considering her pre-existing lung disease and weakened immune system. Since her violent and punitive transfer from Tehran's Evin prison to Zanjan's prison on 24 December 2019, Narges Mohammadi has been deliberately denied health care, which may amount to torture or other ill-treatment. The prison and prosecution authorities have refused to transfer her for specialized care outside prison. Her prescriptions for medication to prevent the formation of blood clots in her lungs have not been renewed since her removal from Evin prison. The authorities have not allowed her to call her children for nearly a year and are denying her access to reading materials brought by her family. On 22 February, officials visited Narges Mohammadi in Zanjan's prison, and informed her that she is facing several national security-related charges in connection to her human rights activism inside prison. The activities cited as "evidence" included statements condemning the death penalty, prolonged solitary confinement, and other forms of torture or ill-treatment, the killings of protesters in November 2019, and calling for a referendum on the country's political system. They have opened a second criminal case against her for "causing disruption in prison" and "libel against the head of Evin prison". The former charge is for holding a sit-in with other prisoners in Evin prison between 21 and 24 December 2019 to protest the killings of protesters. The latter charge is in relation to a complaint that she filed in December 2019 against the head of Evin prison, alleging that, he and several other prison officials subjected her to verbal abuses, death threats, and beatings. I urge you to release Narges Mohammadi immediately and unconditionally, as she is held solely for her peaceful human rights work. Pending her release, I urge to immediately provide her with the health care she needs outside prison, end her punitive and unsafe placement in Zanjan prison, and return her to her usual place of detention in Evin prison. Yours sincerely,
ADDITIONAL RESOURCES