Fifty-three days after he was subject to a suspected enforced disappearance, Bangladeshi photographer and newspaper editor Shafiqul Islam Kajol has been produced by the authorities and sent to indefinite pre-trial detention. He could face up to 7 years in prison if convicted on charges he is accused of under the highly repressive Digital Security Act for his Facebook posts. Detained solely for exercising his right to freedom of expression, Shafiqul Islam Kajol is a prisoner of conscience and must be released immediately and unconditionally.
TAKE ACTION: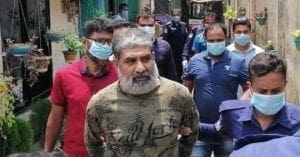 Write a letter in your own words or using the sample below as a guide to one or both government officials listed. You can also email, fax, call or Tweet them.
Click here to let us know the actions you took on Urgent Action 34.20. It's important to report because we share the total number with the officials we are trying to persuade and the people we are trying to help.
Mr. Asaduzzaman Khan, MP
Ministry of Home Affairs
Due to postal restrictions caused by COVID-19, please only send physical mail to the Embassy
Fax: +88-02-9347290 Email:
[email protected]
[email protected]
Ambassador Mohammad Ziauddin
Embassy of Bangladesh 3510 International Drive NW, Washington DC 20008 Phone: 202 244 0183 Fax: 202 244 2771 | 7830 Contact form:
https://bit.ly/2FzcITR
Salutation: Dear Ambassador
Honorable Minister Khan, I am relieved to learn that Bangladeshi photographer and newspaper editor Shafiqul Islam Kajol is alive, after being disappeared for 53 days. I am, however, concerned that instead of ensuring his wellbeing and letting him return to his family, authorities are holding him in indefinite pre-trial detention. It now appears that he faces at least three cases under the repressive 2018 Digital Security Act (DSA), for allegedly publishing "false, offensive, illegally obtained and defamatory" content on Facebook that "could deteriorate law and order". The DSA violates the International Covenant on Civil and Political Rights (ICCPR), to which Bangladesh is a state party. The police have also registered a fourth case against Shafiqul Islam Kajol under the Bangladesh Passport Order, 1973 accusing him of "trespassing" into his own country on 3 May 2020, the day Benapole police confirmed having him in custody. The Jashore magistrate court granted him bail in the "trespassing" case, but police refused to let him go and filed another case against him later that evening under section 54 of the Code of Criminal Procedure, 1898 to keep him in detention until he is prosecuted under the DSA. At a time when countries across the world, including Bangladesh, are taking steps to release prisoners to mitigate the spread of COVID-19, it is disheartening to know that Shafiqul Islam Kajol is being kept in jail. I call on you and the Bangladesh government to immediately and unconditionally release Shafiqul Islam Kajol and close investigations against him and all those held solely for exercising their right to freedom of expression; decriminalize defamation, and treat it as a matter of civil litigation; and promptly amend the Digital Security Act in compliance with international human rights law including ICCPR, to which Bangladesh is a state party and ratify the International Convention for the Protection of All Persons from Enforced Disappearance Yours sincerely,
ADDITIONAL RESOURCES