Lawyer Hoda Abdelmoniem has been arbitrarily detained for four years and is on trial by an Emergency State Security Court on bogus charges stemming from her human rights work. The Egyptian authorities continue to deny her access to her family and adequate healthcare despite her serious health problems including kidney failure and a heart condition, and her history of hospitalization. She must be immediately and unconditionally released.
TAKE ACTION: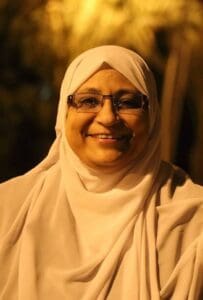 Please take action as-soon-as possible. This Urgent Action expires on December 26, 2022.
Write a letter in your own words or using the sample below as a guide to one or both government officials listed. You can also email, fax, call or Tweet them.
Click here to let us know the actions you took on Urgent Action 190.18. It's important to report because we share the total number with the officials we are trying to persuade and the people we are trying to help.
CONTACT INFORMATION
President Abdelfattah al-Sisi
Office of the President, Al Ittihadia Palace Cairo, Arab Republic of Egypt Fax: +202 2391 1441 Email:
[email protected]
Twitter:
@AlsisiOfficial
SAMPLE LETTER
Your Excellency, Human rights lawyer
Hoda Abdelmoniem
has been arbitrarily detained for four years, solely in relation to her human rights work. After spending 35 months in pre-trial detention, the Supreme State Security Prosecution referred her to trial in front of an Emergency State Security Court (ESSC). She is charged with joining, financing and supporting a "terrorist group" and disseminating news on social media in order to incite violence against state institutions in relation to accusations of human rights violations by security forces published on a Facebook page titled "the Egyptian Coordination for Rights and Freedoms". Proceedings by the ESSCs, which are special courts activated when there is a state of emergency, are inherently unfair as their verdicts are not subject to appeal. Her right to adequate defence has also been violated, as she is banned from meeting with her lawyer except in court. The trial began on 11 September and is still ongoing. During a court hearing held on 15 October, Hoda Abdelmoniem briefly told her husband about her worsening conditions of detention but had no opportunity to provide further details. On 23 August 2022, Hoda Abdelmoniem's husband and daughters were allowed to visit her in prison for the first time since her arrest. The visit, which lasted 25 minutes, took place in the presence of security officers which prevented her from speaking freely. She has a heart condition, kidney disease, arterial thrombosis, and high blood pressure, and said in court in October 2021 that a prison doctor recommended for her to have a cardiac catheterization. Despite this, officials at the al-Qanater Prison for women, where she is held, continue to refuse her transfer to an outside hospital for treatment and deny her relatives, access to her medical records, further raising their anguish about her health. In light of the above, I urge you to ensure that Hoda Abdelmoniem is immediately and unconditionally released and all charges against her are dropped as her detention and prosecution stem solely from her human rights work. Pending her release, I call on you to ensure that she is provided with the means to regularly communicate with her family and lawyers, has access to adequate health care, including outside of prison when needed, and is provided with her medical records. Yours sincerely,
[YOUR NAME]
ADDITIONAL RESOURCES