On December 20, 2021, the Emergency State Security Court sentenced activist Alaa Abdel Fattah to five years' imprisonment and human rights lawyer Mohamed Baker to four years in prison, after convicting them of spurious charges of "spreading false news" over their social media posts. They have already spent 28 months in arbitrary detention, stemming solely from the peaceful exercise of their human rights. Amnesty International calls for their immediate and unconditional release.
TAKE ACTION: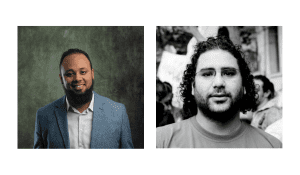 Please take action as-soon-as possible. This Urgent Action expires on March 28, 2022.
Write a letter in your own words or using the sample below as a guide to one or both government officials listed. You can also email, fax, call or Tweet them.
Click here to let us know the actions you took on Urgent Action 132.19. It's important to report because we share the total number with the officials we are trying to persuade and the people we are trying to help.
CONTACT INFORMATION
President Abdel Fattah al-Sisi Office of the President Al Ittihadia Palace Cairo, Arab Republic of Egypt Fax +202 2391 1441 Email:
[email protected]
Twitter:
@AlsisiOfficial
SAMPLE LETTER
Dear President, I am writing to raise my concerns about the unjust imprisonment of activist
Alaa Abdel Fattah
and human rights lawyer
Mohamed Baker
who on December 20, 2021, were convicted by an emergency court for "spreading false news undermining national security" and sentenced to five and four years in prison, respectively, solely for the peaceful exercise of their human rights. Proceedings before emergency courts are inherently unfair as their verdicts are not subject to appeal by a higher tribunal. The defendants were also denied their right to adequate defence as their lawyers were prevented from communicating with them in private and photocopying the casefiles, indictments and verdicts. Their lawyers filed complaints to the office responsible for ratifying Emergency State Security Court (ESSC) verdicts, calling for you to quash the verdict in accordance to Article 14 of the Emergency Law. Alaa Abdel Fattah and Mohamed Baker have been arbitrarily detained since September 2019 and are held at the Tora Maximum Security 2 Prison in Cairo in cruel, inhuman and degrading conditions, which violate the absolute prohibition of torture and other ill-treatment. On January 9, 2022, their pre-trial detention was renewed for an additional 45 days in a separate case (No. 1356 of 2019) in connection to unfounded terrorism-related accusations. During the hearing, Alaa Abdel Fattah spoke to the presiding judge about the unlawfulness of his detention as well as his dire conditions in prison, including being denied reading material, exercise in the prison yard and a bed or mattress. He also raised concerns about witnessing violations against other prisoners, being threatened by a security officer with further dire consequences if he does not remain silent and being isolated from other prisoners during transfers from prison to court. On January 18, 2022, the Court of Cassation rejected the final appeal by Alaa Abdel Fattah, Mohamed Baker and 27 others against their arbitrary inclusion in the "terrorists list" in November 2020, without due process as part of Case No. 1781/2019. The effect of the decision includes a travel ban, an asset freeze and prohibition from engaging in political or civic work for five years. I urge you to release Alaa Abdel Fattah and Mohamed Baker immediately and unconditionally, quash the verdict against them and drop all charges against them as they are detained solely for peacefully exercising their human rights. Pending their release, I urge you to ensure that they are held in conditions meeting international standards, protected from torture and other ill-treatment and allowed to regularly communicate with their families and lawyers. Sincerely,
[YOUR NAME]
ADDITIONAL RESOURCES