Two Iranian women's rights defenders, Yasaman Aryani and Monireh Arabshahi, have each been sentenced to 16 years in prison, while a third, Mojgan Keshavarz, has been sentenced to 23 years and six months in prison. They are all prisoners of conscience jailed solely because of their peaceful campaigning against discriminatory forced veiling laws. If the verdicts are upheld on appeal, they would each be required to serve 10 years of their prison sentences.
TAKE ACTION: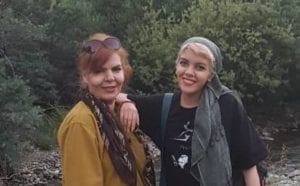 Write a letter in your own words or using the sample below as a guide to one or both government officials listed. You can also email, fax, call or Tweet them.
Click here to let us know the actions you took on Urgent Action 96.19. It's important to report because we share the total number with the officials we are trying to persuade and the people we are trying to help.
Head of the Judiciary Ebrahim Raisi C/o Permanent Mission of Iran to the UN Chemin du Petit-Saconnex 28 1209 Geneva, Switzerland
H.E. Majid Takht Ravanchi
Permanent Mission of the Islamic Republic of Iran 622 Third Avenue, 34th Floor New York, NY 10017 Phone: 212 687-2020 I Fax: 212 867 7086 Email:
[email protected]
Twitter:
@Iran_UN
Salutation: Dear Ambassador
Dear Mr Raisi, Two women's rights defenders, Yasaman Aryani and her mother, Monireh Arabshahi, were unjustly sentenced on 31 July 2019 to 16 years in prison, while a third, Mojgan Keshavarz, was unjustly sentenced to 23 years and six months in prison. All three prison sentences consist of a one-year term for "spreading propaganda against the system", a five-year term for "gathering and colluding to commit crimes against national security", and a 10-year term for "inciting and facilitating corruption and prostitution" through promoting "unveiling". Mojgan Keshavarz's sentence includes an additional prison term of seven years and six months for "insulting Islamic sanctities". If these convictions and sentences are upheld on appeal, each woman would be required to serve 10 years of her prison sentence, as per sentencing guidelines in Iran's penal code. The trial of Yasaman Aryani, Monireh Arabshahi and Mojgan Keshavarz, conducted before Branch 28 of the Revolutionary Court in Tehran, was grossly unfair. They were not allowed to access their lawyers at any stage of the process. The judge rejected the women's pleas to access their lawyers and said that their lawyers would not be allowed to access their court files or represent them until the appeal stage. The three women's rights defenders were arrested in April 2019 in relation to a video that went viral on social media, showing them without their headscarves, distributing flowers to female passengers on a metro train on International Women's Day on 8 March 2019, and discussing their hopes for a future when all women in Iran would have the freedom to choose what to wear. Following their arrests, they were held in prolonged solitary confinement, which violates the absolute prohibition on torture and other cruel, inhumane and degrading treatment under international law, and pressured to appear before a camera, "confessing" that foreign elements were behind their activism against forced veiling and "repenting" their actions. I urge you to release Monireh Arabshahi, Yasaman Aryani and Mojgan Keshavarz immediately and unconditionally as they are all prisoners of conscience, jailed solely for their human rights work. Pending their release, ensure that they have regular contact with a lawyer of their choosing. I also urge you to stop criminalizing the work of women's rights defenders and abolish forced veiling laws. Yours sincerely,
ADDITIONAL RESOURCES