The Bangladeshi authorities relocated more than 1,600 Rohingya refugees to Bhashan Char, a remote island at the Bay of Bengal, on 4 December 2020. Despite the fact that it has not yet been declared safe for human habitation by the United Nations, about 100,000 Rohingya refugees could be taken from Cox's Bazar to the remote island. With grave concerns for the safety of thousands of Rohingya refugees, Amnesty international is calling on the Bangladeshi authorities to immediately halt the relocation of more people to Bhashan Char, return those already on the island to their families and community in Cox's Bazar and follow due process, including full and meaningful participation of refugees, for any relocation.
TAKE ACTION: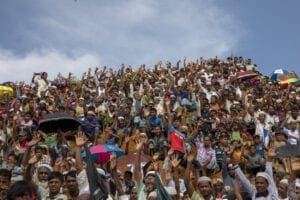 Write a letter in your own words or using the sample below as a guide to one or both government officials listed. You can also email, fax, call or Tweet them.
Click here to let us know the actions you took on Urgent Action 169.20. It's important to report because we share the total number with the officials we are trying to persuade and the people we are trying to help.
CONTACT INFORMATION
Ambassador Mohammad Ziauddin
Embassy of Bangladesh 3510 International Drive NW, Washington DC 20008 Phone: 202 244 0183 Fax: 202 244 2771 | 7830 Email:
[email protected]
Contact form:
https://bit.ly/2FzcITR
Salutation: Dear Ambassador
SAMPLE LETTER
Honorable Prime Minister Sheikh Hasina, I am gravely concerned about the lives of the more than 1,600 Rohingya refugees, who were moved to Bhashan Char island on 4 December 2020, even before the United Nations, human rights and humanitarian agencies have been granted access to conduct independent assessments of the conditions. It is further distressing to learn that not only have 300 Rohingya refugees been confined on Bhashan Char against their will since May 2020, but an additional 100,000 are at risk of immediate relocation. Some Rohingya refugees have told rights organizations that they have been coerced to go to the island. Bangladesh has provided Rohingya refugees with a second chance at life as they fled the horrors of persecution, however, the confinement of the Rohingya refugees on the island is a violation of Bangladesh's obligations under the ICCPR, and gravely undermines their right to freedom of liberty and freedom of movement. It is important that a due and transparent process is followed in situations where the international community has a responsibility to support Bangladesh and the Rohingya refugees. I urge you to immediately halt the relocation of more Rohingya refugees to Bhashan Char and return those already on the island to their families and community in Cox's Bazar; allow the UN, humanitarian and human rights organizations to carry out independent assessments on Bhashan Char's habitability, access to basic freedoms and rights, and only after it is deemed habitable, open the island to the public; and outline in a publicly accessible, transparent and rights-respecting policy framework the participation of Rohingya refugees in the decisions that affect them. Yours sincerely,
[YOUR NAME]
ADDITIONAL RESOURCES