Journalist Younis Abdelsalam has been arbitrarily detained without charge by the Huthi de facto authorities for almost a year. He was falsely accused of communicating with foreign entities. Following his arrest, he was subjected to enforced disappearance for several weeks and then held incommunicado for at least three months. Amnesty International urges the Huthi de facto authorities to immediately release Younis Abdelsalam. Pending his release, they must ensure he is protected from torture and other ill-treatment and that he has access to legal representation, his family, and adequate healthcare.
TAKE ACTION: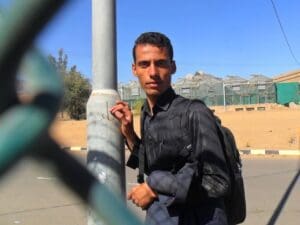 Please take action as-soon-as possible. This Urgent Action expires on September 15, 2022.
Write a letter in your own words or using the sample below as a guide to one or both government officials listed. You can also email, fax, call or Tweet them.
Click here to let us know the actions you took on Urgent Action 69.22. It's important to report because we share the total number with the officials we are trying to persuade and the people we are trying to help.
CONTACT INFORMATION
SAMPLE LETTER
Dear Mohamed Abdelsalam, Journalist
Younis Abdelsalam
, 28-year-old, has been arbitrarily detained by the Huthi de facto authorities since August 4, 2021, in Sanaa, Yemen. He was held for one night in an underground cell in an unofficial detention centre next to Sanaa international airport before he was transferred to a Huthi-run security and intelligence detention centre in Sanaa. Younis Adbelsalam was subjected to enforced disappearance for several weeks. He was also held in solitary confinement for 80 days and in incommunicado detention for at least three months. To date, he has not been charged nor has he appeared before a judge. His lawyer has not been allowed to visit him or speak to him since his arrest. According to his brother, Younis Abdelsalam was detained for peacefully opposing the authorities. He is accused of communicating with foreign entities but has not been formally charged. On January 19, 2022, his lawyer submitted a request to the Specialized Criminal Prosecution to release Younis Abdelsalam on the basis that his detention is arbitrary. A month later, the family paid bail to the security and intelligence apparatus for the release of Younis Abdelsalam but were informed that his case will be transferred to the public prosecutor instead. Amnesty International reviewed a medical report which mentions that Younis Abdelsalam suffers from a mental health condition that requires regular medical follow up and treatment. He has been denied adequate healthcare throughout his detention. According to his brother who recently visited him, Younis Abdelsalam's mental health has deteriorated due to his detention conditions. We urge the Huthi de facto authorities to immediately release Younis Abdelsalam, unless he is charged with a recognizable criminal offense, in accordance with international standards. Pending his release, they must ensure he is protected from torture and other ill-treatment and that he has access to legal representation, regular family contact, and adequate healthcare. Sincerely,
[YOUR NAME]
ADDITIONAL RESOURCES