Palestinian refugee from Syria Mohamed Ajlani Younes has been held arbitrarily and in poor conditions since 26 May in the new Istanbul Airport. The Turkish authorities are not processing his asylum application and he is at imminent risk of deportation to Lebanon, where he is in danger of further removal to Syria.
TAKE ACTION: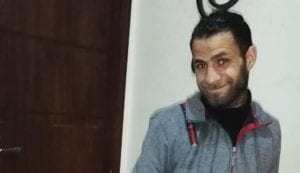 Write a letter in your own words or using the sample below as a guide to one or both government officials listed. You can also email, fax, call or Tweet them.
Click here to let us know the actions you took on Urgent Action 98.19. It's important to report because we share the total number with the officials we are trying to persuade and the people we are trying to help.
Director General Abdullah Ayaz
Directorate General of Migration Management Lalegül Çamlıca Mahallesi 122 Sokak, No: 2/3 06370 Ankara, Turkey Fax: +90 312 422 09 00 / 09 99 Email:
[email protected]
Dear Director, Mohamed Ajlani Younes, a Palestinian refugee from Syria, has been held in the transit zone of Istanbul Airport since 26 May. I believe there are at times up to 50 others also held in this area. He is not allowed to enter Turkish territory to seek protection as a refugee and have his case duly assessed. He has been held for over a month in an area that is designed for short stays, with no access to adequate food, natural light or open air, no privacy and limited medical assistance. Mohamed Ajlani Younes's asylum application in Turkey has not been decided and there is no formal deportation decision against him. Despite this, he continues to be detained and there have been two attempts to deport him to Lebanon, the most recent on 21 June, when he was flown to Lebanon but refused entry into the country by the Lebanese authorities and brought back to Istanbul. He remains at risk of return to Lebanon. Deporting Mohamed Ajlani Younes to Lebanon would put him in danger of being sent to Syria, a country that is not safe and where he would be at risk of serious human rights violations. This would be in breach of Turkey's obligations under international law. Furthermore, as a Palestinian refugee from Syria, if returned to Lebanon he would be exposed to dire living conditions which in themselves may violate his rights. In light of the above, I urge you to immediately release Mohamed Ajlani Younes from detention and grant him access to the Turkish territory; immediately grant him effective access to protection procedures as a refugee in Turkey and to protect him and others in the transit zone of Istanbul airport from return decisions that may expose them to serious human rights violations. Yours sincerely,
ADDITIONAL RESOURCES