On June 7, 2022, the rectorship of the Ankara based Middle East Technical University (METU) sent an email to all students, declaring the campus-based Pride march on June 10, 2022 'categorically banned', threatening the participants with police intervention if the march proceeds. The rectorship's action represents an unjustifiable attempt to restrict the rights to freedom of expression and peaceful assembly of METU students and staff and must be reversed.
TAKE ACTION: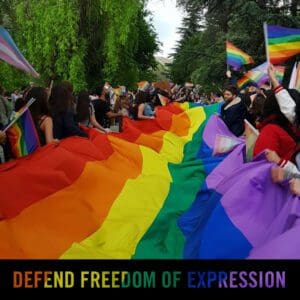 Please take action as-soon-as possible. This Urgent Action expires on June 10, 2022.
Write a letter in your own words or using the sample below as a guide to one or both government officials listed. You can also email, fax, call or Tweet them.
Click here to let us know the actions you took on Urgent Action 52.22. It's important to report because we share the total number with the officials we are trying to persuade and the people we are trying to help.
CONTACT INFORMATION
SAMPLE LETTER
Dear Prof Dr. Mustafa Verşan Kök, I write to call on you to reverse your decision to 'categorically ban' the peaceful campus-based Pride march, planned for Friday June 10, 2022. The grounds cited in your email sent to all METU students on June 7, 2022, namely the 'damage that would be caused to the University's prestige' are not among those permitted under Türkiye's domestic laws, nor are they permissible under binding international human rights laws and standards. In May 2019, during the last campus-based peaceful march, 18 students and one academic staff who were detained by police who used unnecessary and excessive force. They were prosecuted for their participation in the march but acquitted in their trial heard by the Ankara Penal Court of First Instance No 39 in October 2021. In the light of this court decision, any attempt to prevent this peaceful assembly would represent a new and serious restriction on those who wish to exercise their rights. I therefore urge you to ensure that all participants in METU Pride, students, and staff, are able to exercise their right to peaceful assembly on June 10 freely and without fear of reprisal or punishment. Sincerely,
[YOUR NAME]
ADDITIONAL RESOURCES