Kurdish civil society activist Zahra Mohammadi, aged 29, has been arbitrarily detained since her arrest in Sanandaj, Kurdistan province, Iran, on 23 May 2019. She is charged with national security offenses in relation to her civil society work empowering marginalized members of Iran's Kurdish minority.
TAKE ACTION: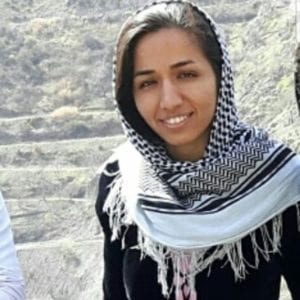 Write a letter in your own words or using the sample below as a guide to one or both government officials listed. You can also email, fax, call or Tweet them.
Click here to let us know the actions you took on Urgent Action 156.19. It's important to report because we share the total number with the officials we are trying to persuade and the people we are trying to help.
Mohammad Jabbari Prosecutor General of Sanandaj c/o Permanent Mission of Iran to the UN Chemin du Petit-Saconnex 28 1209 Geneva, Switzerland
H.E. Majid Takht Ravanchi
Permanent Mission of the Islamic Republic of Iran 622 Third Avenue, 34th Floor New York, NY 10017 Phone: 212 687-2020 I Fax: 212 867 7086 Email:
[email protected]
Twitter:
@Iran_UN
Salutation: Dear Ambassador
Dear Mr Mohmmad Jabbari, Zahra Mohammadi, a Kurdish civil society activist, has been accused of co-operating with Kurdish opposition groups and charged with national security offenses for her peaceful activities empowering members of Iran's marginalized Kurdish community, including through teaching the Kurdish language. On 18 September 2019, without prior notice to her lawyers or family, Zahra Mohammadi was transferred to Branch One of the Revolutionary Court of Sanandaj for a hearing which was subsequently postponed. On 23 May 2019, Zahra Mohammadi was arrested in her home by plain-clothes agents from the Ministry of Intelligence and then held in solitary confinement at an undisclosed location until 31 May, when she was transferred to Sanandaj prison and her family were informed of her whereabouts. During a subsequent family visit, Zahra Mohammadi said that she had been pressured to provide a forced "confession" during those eight days in secret detention. She said that her interrogators threatened to arrest her family members if she did not agree to work for the Ministry of Intelligence and sign a pre-written "confession". Zahra Mohammadi is in poor health. She currently has a stomach-related illness. She also has a pre-existing digestive condition that requires medication, which she has been unable to take in prison. I urge you to release Zahra Mohammadi immediately and unconditionally as she is a prisoner of conscience detained solely for her peaceful civil society activism. Pending her release, please ensure that she is protected from torture and other ill-treatment and can receive regular visits from her lawyer and family, as well as adequate medical care, including any specialized treatment she may need. Yours sincerely,
ADDITIONAL RESOURCES