On June 11, 2022, two police officers in plainclothes arrested journalist Salah Attia. His arrest stems from a declaration he made on Al Jazeera TV the day before in which he mentioned that the army had refused presidential orders to shutter the headquarters of the Tunisian General Labor Union. Salah Attia is currently detained in Mornaguia prison in Tunis pending further investigation. He is the second journalist and the 12th civilian at least to be prosecuted by the military court since President Kais Saied's power grab. Amnesty International calls for his immediate release. We also call on the authorities to limit the use of military courts only to try military personnel for breaches of military discipline.
TAKE ACTION: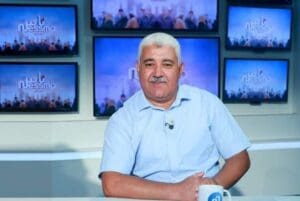 Please take action as-soon-as possible. This Urgent Action expires on September 1, 2022.
Write a letter in your own words or using the sample below as a guide to one or both government officials listed. You can also email, fax, call or Tweet them.
Click here to let us know the actions you took on Urgent Action 62.22. It's important to report because we share the total number with the officials we are trying to persuade and the people we are trying to help.
CONTACT INFORMATION
SAMPLE LETTER Your Excellency, I write to you to express my grave concern over the prosecution of journalist
Salah Attia
by the Military Court of First Instance in Tunis as his prosecution stems from the peaceful exercise of his right to freedom of expression. Moreover, under international human rights conventions which Tunisia has ratified, civilians should never be prosecuted before military courts. On the evening of June 10, 2022, Salah Attia appeared remotely on Al Jazeera TV where he sometimes appears as a political analyst on Tunisia. In his
remarks
he states that President Saied asked the army to enforce the closure of the office of the Tunisian General Labor Union (Union Générale des Travailleurs Tunisiens – UGTT), but that the army had refused and had subsequently informed the UGTT of the order. Salah Attia also said that, in addition, President Saied had asked the army to impose house arrest on a number of political leaders – whom Attia did not name – and that the army had refused this request as well. On June 11, 2022, UGTT issued a press release to
deny
the journalist's claims. Salah Attia is charged with "inciting people to take up arms against one another, and causing disorder, murder, and plunder on Tunisian territory". , accusing public officials without proof of illegal acts, denigrating the army, as well as "intentionally harming others or disturbing their peace through telecommunication networks", under article 72 of the Penal Code which carries the death penalty, article 128 of the Penal Code, Article 91 of the Military Code of Justice and Article 86 of the Telecommunications Code, respectively. Salah Attia is set to appear for audience before an investigative judge at the military court on July 7, 2022, according to his lawyer Samir Dilou. Salah Attia's prosecution by a military court violates Article 14 of the International Covenant on Civil and Political Rights, which Tunisia has ratified. That article guarantees the right to "a fair and public hearing by a competent, independent and impartial tribunal established by law." His prosecution also undermines his rights to freedom of expression as it is based on his remarks on Al Jazeera which are protected speech under international law. I urge you to immediately release Salah Attia and drop all charges against him as they stem solely from the exercise of his right to freedom of expression. I also call on the Tunisian authorities to end entirely the practice of prosecuting civilians before military courts. Sincerely,
[YOUR NAME]
ADDITIONAL RESOURCES