On 21 November 2022, security agents arrested and imprisoned prominent human rights lawyer Mohamed Ziane, around one hour after the Rabat court of appeal confirmed his sentencing of three years in prison in absentia. The 11 charges against him are unrelated and include bogus charges of insulting public officials and institutions, defamation and marital infidelity. The only recognizable charge against him, that of sexual assault, should be dealt with through proceedings that meet international fair trial standards.
TAKE ACTION: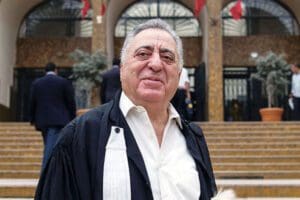 Please take action as-soon-as possible. This Urgent Action expires on March 28, 2023.
Write a letter in your own words or using the sample below as a guide to one or both government officials listed. You can also email, fax, call or Tweet them.
Click here to let us know the actions you took on Urgent Action 10.23. It's important to report because we share the total number with the officials we are trying to persuade and the people we are trying to help.
CONTACT INFORMATION
Head of Government of the Kingdom of Morocco
M. Aziz Akhannouch Palais Royal- Touarga Rabat, Morocco Fax: +212537771010 Twitter:
@ChefGov_ma
/ Facebook:
@cg.gov.ma
Her Highness Princess Lalla Joumala
Embassy of the Kingdom of Morocco 3508 International Drive NW Washington, DC 20008 Phone: 202 462 7979 I Fax: 202 462 7643 Email:
[email protected]
Twitter:
@morocco_usa
Salutation: Your Highness
SAMPLE LETTER
Your Excellency, I am writing to express concern over the detention of lawyer
Mohamed Ziane
following an unfair trial on a host of unrelated charges, many of which violate his right to freedom of expression. On 21 November 2022, 20 security agents barged into Mohamed Ziane's lawyer's office. They arrested him and took him straight to prison without trial. One hour earlier, the Rabat court of appeal sentenced him to three years in prison – with immediate effect – and a fine of 5000MAD (around 492 USD). The sentencing took place without the presence nor knowledge of Mohamed Ziane or his lawyers, for 11 unrelated charges dating back to 2021. The arrest came two days after a video was posted on YouTube in which Mohamed Ziane appears insulting the director of the Moroccan national security forces in reaction to a video that defamed Mohamed Ziane for sexual misconduct against a former police officer who Mohamed Ziane had represented in a sexual harassment case against her then boss. The former police officer publicly denies such allegations of sexual misconduct by Mohamed Ziane. At least six of the 11 charges against Mohamed Ziane violate his freedom of expression, including those under Penal Code Articles 263 (insulting the judiciary and public officials) and 265 (insulting organized bodies). The charge of sexual harassment is the only charge considered a legitimate offence under international law and should be investigated in a fair, independent, impartial and transparent process. Since his arrest and imprisonment on 21 November 2022, Mohamed Ziane has been held in a cell alone in Arjate 1 prison in Salé, a city next to the capital Rabat. He is forbidden from communicating with any other prisoners and is only permitted visits from his lawyer. He is allowed out into the prison courtyard alone and prison guards also deny him writing and reading materials. I urge you to immediately drop all bogus charges held against Mohamed Ziane, to investigate the allegation of sexual assault in an independent, impartial and transparent process, and to ensure he is immediately provided an opportunity for his ongoing detention to be reviewed by a court, with a presumption that he will be released pending the end of his trial. Yours sincerely,
[YOUR NAME]
ADDITIONAL RESOURCES