Idris Hasan, an ethnic Uyghur living in Turkey, was arrested in July 2021 in Morocco on the basis of an Interpol red notice, which has since been cancelled. The Chinese government reportedly considers him a "terrorist", which Chinese law defines in an overly broad and vague manner, because of the work he had previously done for Uyghur organizations. On December 15, 2021, the Moroccan Court of Cassation ruled in favour of Idris Hasan's extradition. Idris Hasan remains in detention and at high risk of being extradited to China where he will face a real risk of arbitrary detention and torture. The Moroccan authorities must immediately cancel his extradition.
TAKE ACTION: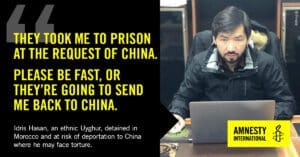 Please take action as-soon-as possible. This Urgent Action expires on April 27, 2022.
Write a letter in your own words or using the sample below as a guide to one or both government officials listed. You can also email, fax, call or Tweet them.
Click here to let us know the actions you took on Urgent Action 14.22. It's important to report because we share the total number with the officials we are trying to persuade and the people we are trying to help.
---
CONTACT INFORMATION
Head of Government Aziz Akhanouch Palais Royal Touarga, Rabat 10070, Morocco Fax: +212 53 7771010 Twitter:
@ChefGov_ma
Copies to: Minister of Justice Abdellatif Ouahbi Email:
[email protected]
Her Highness Princess Lalla Joumala Embassy of the Kingdom of Morocco 3508 International Drive NW Washington, DC 20008 Phone: 202 462 7979 I Fax: 202 462 7643 Email:
[email protected]
Twitter:
@morocco_usa
Salutation: Your Highness
SAMPLE LETTER
Your Excellency, I am writing to express my grave concern for
Idris Hasan (official name Yidiresi Aishan)
, a Uyghur Muslim Chinese national, who was arrested on the night of July 19, 2021 at Casablanca airport on the basis of an Interpol red notice issued at the request of the Chinese authorities. He was subsequently taken to a prison near the town of Tiflet, in northwestern Morocco, where he remains held. The Chinese government reportedly considers him to be a "terrorist", because of the work he had previously done for Uyghur organizations and requested Idris Hasan's extradition based on an extradition treaty China signed with Morocco in 2016. Chinese law defines "terrorism" and "extremism" in an overly broad and vague manner which has been used to persecute Uyghurs and other Muslim ethnic minorities. There is detailed testimonial and documentary evidence that the Chinese government has committed at least the crimes against humanity of imprisonment, torture and persecution against Uyghurs and other predominantly Muslim ethnic minorities in Xinjiang on the basis of their religion and ethnicity. Morocco is obliged under international law not to transfer any individual, including through deportation or extradition, to a country where that person would be at real risk of torture or other serious human rights violations. I am alarmed to learn that despite Interpol having since cancelled the red notice, due to non-compliance with its Constitution, Idris Hasan has remained in prison and on December 15, 2021, the Moroccan Court of Cassation ruled in favour of his extradition to China (ruling No. 1799). If extradited to China, he will be at real risk of arbitrary detention and torture and his extradition would violate Morocco's obligations under international law. I therefore urge you to immediately cancel Idris Hasan's extradition to China. Sincerely,
[YOUR NAME]
ADDITIONAL RESOURCES