Shahnewaz Chowdhury, a Bangladeshi engineer and activist, could face up to 10 years in prison for sharing his personal opinion on Facebook. Expressing his belief that a coal-fired power plant in his hometown was environmentally destructive and criticising incidents that allegedly led to the killing of 12 people during protests in the plant, he called on the youth to 'resist injustice and support development through fearless writing'. He has been detained under the Digital Security Act, a draconian law, that is increasingly being used in Bangladesh to silence dissent. The authorities must drop the case against Shahnewaz Chowdhury and immediately and unconditionally release him and all those accused solely for exercising their right to freedom of expression.
TAKE ACTION: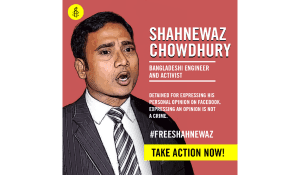 Please take action as-soon-as possible. This Urgent Action expires on August 3, 2021.

Write a letter in your own words or using the sample below as a guide to one or both government officials listed. You can also email, fax, call or Tweet them.
Click here to let us know the actions you took on Urgent Action 60.21. It's important to report because we share the total number with the officials we are trying to persuade and the people we are trying to help.
CONTACT INFORMATION
SAMPLE LETTER Honorable Prime Minister Sheikh Hasina, I write to you with grave concern about
Shahnewaz Chowdhury
, an engineer and activist, who was arrested at midnight from his Gandamara residence in Banshkhali on May 28, 2021, solely for sharing his opinion on Facebook. In the Facebook post, Shahnewaz Chowdhury expressed his opinion that a coal-fired power plant in Banshkhali was environmentally destructive and criticised the incidents that allegedly led to the killing of 12 people during protests in the plant. Believing that the power plant has not contributed to the development that people expected, he encouraged the youth to resist injustice and support development through fearless writing. For this, he has been accused of posting "false and offensive information", "tarnishing the reputation of the power plant" and "creating animosity, instability and chaos" under sections 25, 29 and 31 of the draconian Digital Security Act (DSA). He could face up to 10 years in prison, if convicted. The DSA is being used by the authorities to target critical voices and silence dissent. Shahnewaz Chowdhury is being punished simply for sharing his personal opinion online. Expressing an opinion is not a crime. His arrest is a clear violation of the right to freedom of expression under international human rights law including the International Covenant on Civil and Political Rights, to which Bangladesh is a state party. I urge your government to:
Drop the case against Shahnewaz Chowdhury and immediately and unconditionally release him and all those accused solely for exercising their right to freedom of expression;
Repeal the Digital Security Act unless it can be amended in line with international human rights law including the ICCPR, to which Bangladesh is a state party
Sincerely,
[YOUR NAME]
ADDITIONAL RESOURCES