Retired editor Qurban Mamut has not been seen or heard from by his son since November 2017. Qurban Mamut visited his son in the US in February 2017. His son, a US citizen, believes that having relatives outside China is the reason behind his father's detention. A source told him in September 2018 that Qurban Mamut had been sent to a "transformation-through-education" facility. Given his age and lack of information about his condition, there are serious concerns for Qurban Mamut's wellbeing.
TAKE ACTION: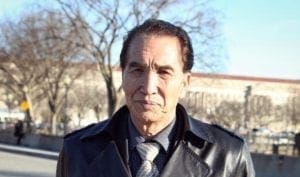 Write a letter in your own words or using the sample below as a guide to the government official listed below. You can also email, fax, call or Tweet them.
Click here to let us know the actions you took on Urgent Action 103.20. It's important to report because we share the total number with the officials we are trying to persuade and the people we are trying to help.
Director Tao Hongjun c/o Ambassador Cui Tiankai
Embassy of the People's Republic of China 3505 International Place NW, Washington DC 20008 Phone: 202 495 2266 I Fax: 202 495 2138 Email:
[email protected]
Dear Director Tao, I am writing to express my concern about Qurban Mamut (库尔班 ·⻢木提), a retired editor-in-chief of the Uyghur-language journal Xinjiang Civilization, who lived in Urumqi and has not been seen or heard from by his son since November 2017. According to his son, in September 2018 a source reported that Qurban Mamut had been sent to a "transformation-through-education" facility. However, I find it very troubling to learn that, after more than two-and-a-half years, his son has still been unable to see or hear from Qurban Mamut. He is now 70 years old and I am gravely concerned for his condition and wellbeing. I call on you to release Qurban Mamut unless there is sufficient, credible and admissible evidence that he committed an internationally recognized offense and is granted a fair trial in line with international standards; and pending his release, disclose Qurban Mamut's whereabouts, allow him access to his family and a lawyer of his choice, and ensure he is not subjected to torture and other ill-treatment. Yours sincerely,
ADDITIONAL RESOURCES