Every year celebrate Pride with LGBTQI activists around the world– celebrating our pride and standing for our rights.  This year amidst a global health crisis, many Pride celebration outdoor gatherings are cancelled–but Pride is not cancelled–and it's more important than ever to join the celebration, show our solidarity, and take action for LGBTI rights!   
On this page you'll find actions you can take, ideas for organizing, and resources to learn more.  Join us!
FOCUS CASE
Free trans asylum seeker Kelly Gonzalez Aguilar from detention
"Our lives are in danger because there are people here who tested positive for the COVID-19 virus and there is nothing we can do. More detainees keep coming and going. This is a time bomb for our lives. We pray that someone will do something."
Kelly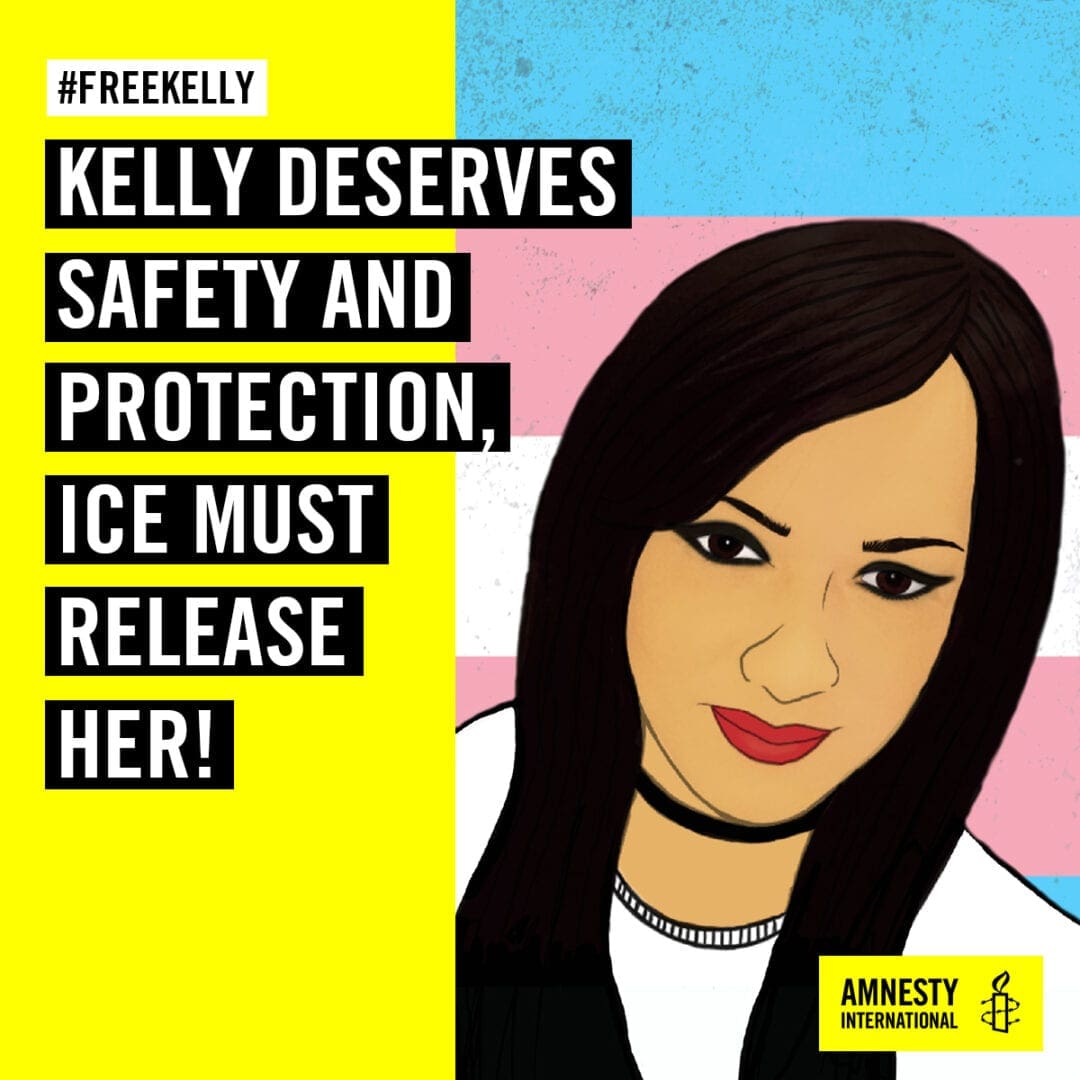 After she traveled to the USA, US immigration authorities detained her in August 2017. She has been locked up since while she awaits the results of her asylum claim. She is now being held at the Aurora Detention Facility in Colorado. She fears she could contract COVID-19 because of the inadequate measures taken by authorities to protect detainees and staff from the virus.
Kelly has been held for over two and a half years in detention. That is two and a half years too long. This Pride month, take action and tell US immigration authorities to release Kelly immediately!
TAKE ACTION ON KELLY'S CASE
Write and send physical letters to ICE (sample letter here) to demand Kelly's parole
Send an email to ICE demanding they parole Kelly
Send Kelly solidarity messages.
LEARN MORE ABOUT KELLY'S CASE
Learn more about Kelly's case from the Urgent Action here
Watch a live-recorded conversation with trans and Amnesty activists about Kelly' case here
Download our factsheet on transgender asylum seekers here
FOCUS ISSUE
Black Lives Matter


©Photo by Stephen Maturen Images
The recent death of George Floyd, an unarmed Black man, by police in Minnesota, comes in the wake of and long history of a series of acts of racist violence against Black people that illustrates astounding levels of violence and discrimination in the United States.  This Pride month, we recognize the centrality and interconnectedness of the Black Lives Matter movement for LGBTI rights.
These issues are connected, not just because Black LGBTQI people are more likely to experience violence than white LGBTQI people, or because white supremacy permeates all parts of culture—including movements for LGBTI rights—but because the roots of this violence and discrimination are the same system that devalues some lives over others, particularly through police violence. The Stonewall Riot, often marked as a key starting point for LGBTI rights movement in America, was aimed at ending police brutality and oppression.  This Pride, we stand with Black Lives Matter and work to better integrate racial justice into our LGBTI rights work!  JOIN US!
10 THINGS YOU CAN DO TO SHOW YOUR PRIDE ALL MONTH LONG
Just because we're physically distant doesn't mean we can't do activism together! Check out the below for ideas to stay engaged with Pride all month long!
Take the actions on Kelly's case– then share them out!
Include your pronouns when you introduce yourself (and in your email signature, etc). Read more about why pronouns matter for creating a trans-inclusive space.
During Coronavirus, check-in on all your people, but especially with transgender friends and family, who may be experiencing disruptions in critical healthcare, or who may be isolated and facing unwelcome or even unsafe situations.
If appropriate, share this resource with friends who might need it.
Host a movie-watching party on an LGBTQI topic. You could stream Major! (Amazon Prime); Kiki (Hulu); or The Death and Life of Marsha P. Johnson (Netflix) to learn more about trans rights. Or you could stream the episodes of Stonewall 50 (NBC) to learn more about the Stonewall Riots, or State of Pride (YouTube) about what Pride in the US 50 years on from Stonewall.
Read some of our "Learn more" resources below to educate yourself– then share these resources with friends and family.
Send a private note to LGBTQI friends and fam to let them know that especially during Pride, you love and support them. Remember that not all folks are "out" to friends, family, or work communities, so it's best to send a private note.
Visit Stonewall from home! You can visit the Stonewall National Historic Park virtually and learn more about its significance in the US LGBTQI rights movement.
Plan a virtual "Pride Happy Hour" discussion where folks gather their own snacks–and maybe even dress up!– and you all celebrate Pride together and discuss a LGBTQI rights topic.
Reach out to your campus LGBTQI center or local LGBTQI youth centers and shelters and ask to be added to their list of volunteers. You can't volunteer in person now, but there may be at-home tasks that can support their work–and you'll be on their list post-pandemic and able to support LGBTQI youth in your community afterwards.
JOIN OUR CHALLENGE
Take part in #PrideInside for a chance to win Amnesty gift packs. For every time you take part in one of the above suggested activities you can enter into a chance to win a prize pack of AIUSA goods including t-shirts, stickers, and more. We'll be giving gift packs away the entire month of June and you can enter an unlimited amount of times. Enter to win here.
LEARN MORE
Throughout Pride month, commit to learning more about LGBTI rights and what you can do to support LGBTQI people!