HUMAN RIGHTS ON CAPITOL HILL
Featured: Haitian Asylum Seekers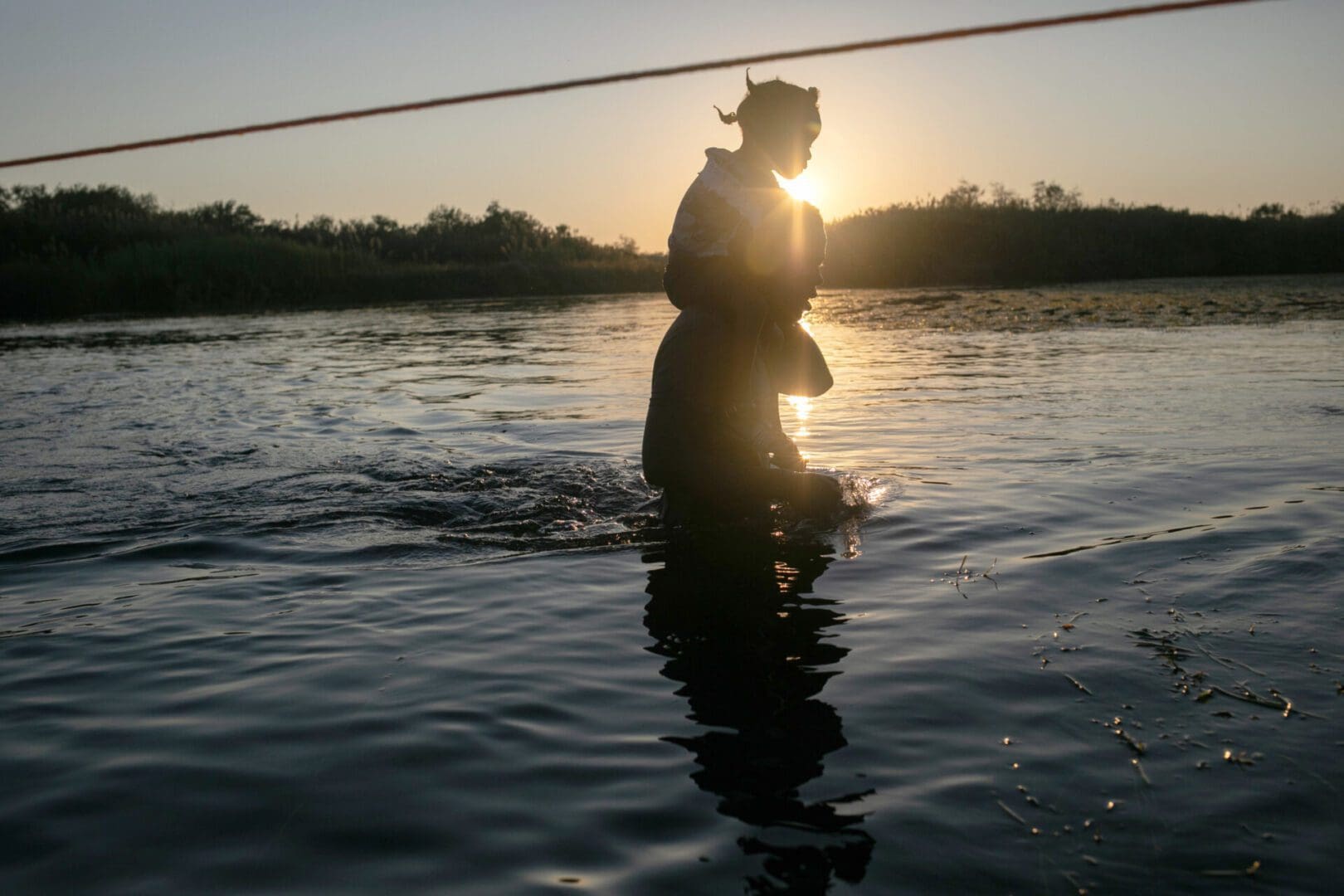 Haitian asylum seekers cross the Rio Grande back into Mexico from Del Rio, Texas on Sept. 7, 2021. (Photo by John Moore via Getty Images)
Just weeks after a devastating earthquake in August that killed, injured, and displaced hundreds of thousands in Haiti, the Biden administration callously began mass deporting Haitian asylum-seekers, including toddlers, under the misuse of its Title 42 public health authority. Horrific reports of the mistreatment of asylum-seekers at the southern border further show Customs and Border Protection ("CBP") chasing Haitians with whip-length lariats to stop them from reaching a makeshift refugee camp in Del Rio, Texas. 
Amnesty International USA is calling on the Biden administration and Congress to stop deportations to Haiti and all Title 42 expulsions at the southern border; to grant humanitarian parole for Haitian and other asylum-seekers at the southern border; to investigate CBP's abusive conduct at Del Rio; to end the practice of interdiction; to end mass immigration detention and to release people from Immigration and Customs Enforcement ("ICE") custody. 
Congress should swiftly pass the Dignity for Detained Immigrants Act (H.R.2222, S.1186), which addresses the harms of the ICE detention system, reduce the overreliance on detention, and welcome people seeking safety. Read more in our Sept. 21 joint statement and Sept. 24 press release.
Amnesty International USA lauds Congress for including, in the Continuing Resolution, critical funding for humanitarian assistance for arriving Afghans. We also strongly support Congress's vote to grant refugee resettlement benefits to Afghans arriving on humanitarian parole. 
The next step is for Congress to pass an Afghan Adjustment Act to ensure that arriving Afghans have the opportunity to seek permanent residency. This is critical as many Afghans were advised to destroy documents associating them to the U.S. mission, their human rights work, and other information that would otherwise be used as evidence to pursue an asylum claim. 
Amnesty International USA is proud to join Welcome.US, a new national initiative, built across sectors, political parties and all walks of life, to empower Americans to welcome and support refugees into our communities. We urge your office to share the Welcome.US link on social media and encourage your constituents to take action to welcome refugees into their communities. 
Responding to the U.S. military's admission that it killed 10 people, including seven children, in a drone strike in Kabul on Aug. 29, Amnesty International issued the following statement: This admission is an important step towards accountability for the killings in Kabul, but much more remains to be done. The U.S. must now commit to a full, transparent, and impartial investigation into this incident. Anyone suspected of criminal responsibility should be prosecuted in a fair trial. Survivors and families of the victims should be kept informed of the progress of the investigation and be given full reparation. President Biden should show real concern for civilians by taking more meaningful steps to prevent civilian casualties as a result of all U.S. lethal operations, as well as to investigate and assist those harmed. 
For more on Afghanistan, tune into Amnesty interviews addressing civilian casualties on NBC and women's human rights on VOA. Read more in Amnesty's Oct. 5 press release relating to the 13 Hazara men killed by Taliban fighters in Daykundi province, Sept. 21 report on the Taliban's human rights abuses, and Sept. 2 reconstruction on the suspected illegal pushback of Afghan refugees stuck at the Poland-Belarus border.
U.S. Reproductive Rights
CONGRESS MUST PROTECT THE HUMAN RIGHT TO ACCESS ABORTION AND PASS THE WOMEN'S HEALTH PROTECTION ACT
Access to safe abortion is a human right and limiting people's access to safe abortion care puts their health and lives in jeopardy. The Women's Health Protection Act ("WHPA") of 2021 (H.R.3755, S.1975) would protect the right to access abortion care throughout the U.S. WHPA protects the right to access abortion free from medically unnecessary restrictions and bans on abortion—including mandatory waiting periods, biased counseling, two-trip requirements, and mandatory ultrasounds. Amnesty International USA lauds the House's passage of WHPA and calls on the Senate to swiftly follow suit.
international updates
Amnesty International USA urged lawmakers to ensure inclusion of human rights priorities in the House-passed NDAA package. We were pleased that many were adopted in the House-passed bill. The amendments strengthened human rights considerations and accountability for violations in foreign policy; restricted arms transfers to governments responsible for rights abuses such as Saudi Arabia; included measures to address gender-based violence and unlawful surveillance; and increased support for the evacuation of at-risk Afghans.
But some critical actions remain missing, including finally shuttering the Guantánamo Bay prison and lifting current restrictions on transferring detainees to the U.S.; strengthening existing laws to prohibit all arms transfers to grave violators of human rights; and investigating and preventing the use of U.S. arms to commit abuses and war crimes such as in Yemen and Egypt. As the Senate takes up NDAA, Congress must ensure that these critical human rights measures are included in the final NDAA package.
In honor of Banned Books Week, which began on Sept. 26, Amnesty urges Congress to support the International Press Freedom Act, introduced in the Senate by Senators Kaine (D-VA) and Graham (R-SC). The bill would authorize support for journalists facing threats of violence and persecution while also advancing accountability for crimes against journalists. Passing this bill is essential to demonstrate U.S. commitment to supporting independent media and demanding accountability of any government that violates the right to freedom of expression.
egypt
Amnesty International USA joined 18 human rights organizations in a Sept. 14 letter opposing the Biden administration's reported decision to sidestep Congressionally-mandated human rights restrictions on $300 million of military aid to Egypt by temporarily holding just $130 million with weak conditions, unconditionally releasing the rest. The Egypt Human Rights Caucus criticized the move and said it "violates the spirit and intent of the law." Amnesty has long documented human rights abuses by Egyptian authorities—including extrajudicial killings using U.S.-manufactured equipment. Congress should uphold its critical Egypt human rights restrictions by strengthening relevant FY22 appropriations language and pass Rep. Malinowski's proposed NDAA amendments to require State Department reports on Egyptian authorities' harassment of Americans and their families as well as extrajudicial killings and torture. 
vietnam
In advance of her first trip to Asia as Vice-President, Amnesty International USA sent an Aug. 16 letter to Vice-President Harris urging her to raise critical human rights issues on her trip to Vietnam. In recent years, arbitrary arrests and prosecutions of human rights defenders have increased significantly in Vietnam. Individuals who express themselves online are particularly targeted. Trade of illicit timber into Vietnam from Cambodia has enabled rights violations against Indigenous communities. 
bangladesh
The Lantos Human Rights Commission held an Aug. 31 briefing on Enforced Disappearance in Bangladesh, which has seen a steep increased in the rate of enforced disappearance since the return to power of Prime Minister Sheikh Hasina in 2009. Amnesty International submitted a statement for the record, highlighting several cases of enforced disappearance linked to the draconian Digital Security Law, which went into effect in 2018. 
Ahead of President Biden's September meeting with Prime Minister Boris Johnson, Amnesty International wrote to the White House to draw attention to the worrying plans announced by the UK government to introduce a statute of limitations and remove all legal remedies relating to human rights abuses that occurred during the Northern Ireland "Troubles." Amnesty supports the Sept. 16 letter led by Reps. Boyle (D-PA) and Fitzpatrick (R-PA) calling on the UK government to reexamine the legacy proposal.
In Case You Missed It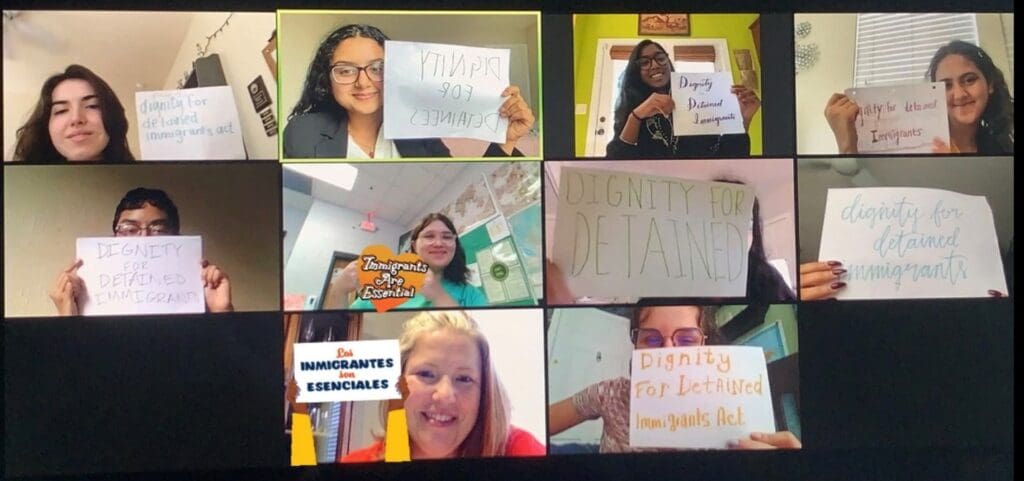 On Sept. 20-24, activists participated in Amnesty's Virtual 2021 Fall Lobby Action. Activists met with congressional offices in support of the Break the Cycle of Violence Act and the Dignity for Detained Immigrants Act.
NEW AMNESTY AMERICAS ADVOCACY DIRECTOR
In July, Amy Fischer joined as Amnesty's new Advocacy Director for Americas. She previously worked as a legislative assistant to Rep. Jayapal (D-WA). She has also worked at Refugee and Immigrant Center for Education and Legal Services ("RAICES") and Detention Watch Network ("DWN"). Amy is leading Amnesty's federal policy advocacy regarding Afghan arrivals and Haitian asylum seekers. 
Latest Amnesty International Reports
COVID-19 VACCINE
PEGASUS PROJECT
ethiopia
niger
Connect with us
regions
Eurasia: Daniel Balson Turkey: Deniz Yuksel Middle East: Philippe Nassif Egypt: Amit Dadon Africa: Adotei Akwei Africa: Makeda Fikremarian Asia: Carolyn Nash Americas: Amy Fischer U.S.: Joanne Lin issues
Digital Rights: Michael Kleinman Gender / Indigenous Rights: Tarah Demant National Security: Daphne Eviatar Human Rights Defenders: Andrew Fandino U.S. Criminal Justice: Krissy Roth COVID-19, Gun Violence, and all Other Issues: Joanne Lin