HUMAN RIGHTS ON CAPITOL HILL
FEATURED ISSUE
Government Attacks on Amnesty International

Amnesty International India Forced to Close
State Department Accusations of Antisemitism Against Amnesty International are Baseless and an Affront to the Human Rights Movement
On October 21 Politico reported that the State Department, under Secretary Pompeo's initiative, may categorize Amnesty International as antisemitic. In response, Amnesty International USA's Interim Executive Director Bob Goodfellow issued this statement:
"Secretary Pompeo's baseless accusations are yet another attempt to silence and intimidate international human rights organizations. The administration is spreading misinformation and working to undermine those who are working to protect human rights. Amnesty International USA is deeply committed to fighting antisemitism and all forms of hate worldwide, and will continue to protect people wherever justice, freedom, truth, and dignity are denied. We vigorously contest any allegation of antisemitism.
"Our human rights work, as well as the broader human rights movement today, exist because of the actions taken by the international community in the aftermath of the Holocaust. Nations came together and said, 'never again.' Never again would atrocities such as those committed in the Holocaust occur because governments would now recognize that all human beings have rights. 
"The Universal Declaration of Human Rights, the founding document of our work and our guiding light, came together precisely because of the atrocities committed against the Jewish people. These accusations are an affront to anyone who believes in the human rights movement." Read more here.
Should you have any questions, please contact Philippe Nassif at [email protected].
Amnesty International is a Nobel Peace Prize-winning global movement of more than 10 million people who campaign for a world where human rights are enjoyed by all. The organization investigates and exposes abuses, educates and mobilizes the public, and works to protect people wherever justice, freedom, truth and dignity are denied. 
Congress's Record on International Human Rights
Amnesty International's Assessment of the 116th Congress's Record on International Human Rights
An October 19 Just Security article by Joanne Lin, The 116th Congress's Record on International Human Rights: The Good, the Bad, and the Unfinished Business, analyzes this Congress's record on international human rights. The 116th session has been marked by important progress in addressing the human rights of Uyghurs in China, but also by devastating setbacks for Yemeni civilians subjected to war crimes and for asylum seekers denied access to protection at the U.S. border. Meanwhile, there was limited movement in Congress on addressing the human rights of Venezuelans and the Rohingya, and little action to address international human rights amid the COVID-19 pandemic. Amnesty International calls for the next Congress to take unified action on international human rights. Click here for more.
Amnesty International's Recommendations for Administrative Policy Reforms in 2021
Gender-Based Violence
Amnesty International USA joins leading women's rights organizations to call on the U.S. government to prioritize addressing gender-based violence (GBV) globally in the first 100 days of 2021. One in three women experience GBV. The U.S. should 1) establish a presidential initiative on ending GBV globally; 2) re-establish GBV as grounds for asylum; and 3) tackle the increase in GBV since the onset of the COVID-19 pandemic.
Feminist Foreign Policy
Amnesty International USA applauds the historic resolution (H.Res. 1147) calling for the adoption of a feminist foreign policy across all auspices of U.S. foreign policy. The resolution is grounded in a bold vision centered on gender equality that is foundational to making our world more equitable and safe. Amnesty urges Congress to pass this resolution.
Human Rights Concerns in U.S. Elections
Right to Peaceful Assembly at Risk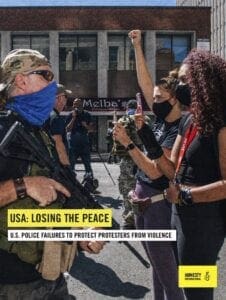 On October 23 Amnesty International released the report
Losing the Peace: US Police Failures to Protect Protesters from Violence
. The report documents how law enforcement agencies are failing to facilitate people's fundamental right to freedom of peaceful assembly, and to protect protesters and counter-protesters from violence against each other.
Amnesty International has documented and verified violent confrontations between protests and counter-protests in approximately 75 percent of all states between May and September 2020. In almost half of all states, police forces failed to keep assemblies peaceful or to protect participants when violence did break out. A frequent catalyst for violent confrontations between protesters and counter-protesters has been the presence of vigilante armed groups. Congress should investigate the escalation of violent extremism, including acts of violence against protests and counter-protests in 2020.
Defend Freedom
To prevent and stop human rights violations related to the election, Amnesty International has launched a new
Defend Freedom
campaign. We are calling on all U.S. government officials, including Congress, to condemn incitement to violence; respect and facilitate the right to peacefully protest and dissent; stop police violence and gun violence; end arbitrary arrest and detention; stop attacks on journalists; and
ban guns at or near the polls
. Please visit
here
to see more, and
read our report,
"The World Is Watching."
International Updates
Indonesia: Amnesty International condemns Indonesia Defense Minister's Visit at Pentagon
Amnesty International sent an October 13 letter protesting the Oct. 16 meeting between Defense Secretary Esper and Prabowo Subianto, Indonesia's Defense Minister, at the Pentagon. Until October 2020, Prabowo Subianto had been banned since 2000 from entering the U.S. due to his alleged direct involvement in crimes against humanity in Indonesia and East Timor. The Pentagon's invitation was an abrupt reversal of longstanding U.S. policy toward Indonesia, in place through the entirety of the George W. Bush and Barack Obama administrations. Seeing the Pentagon roll out the welcome mat for a human rights violator is devastating for the many Indonesian survivors of torture who have been waiting two decades for justice, accountability, and reparations.
China
On September 9, a global coalition of 321 civil society groups including Amnesty International issued an 
open letter
calling on the United Nations to urgently create an independent international mechanism to address the Chinese government's human rights violations. The groups hailed from more than 60 countries around the world—from Azerbaijan to Zambia, from Morocco to Malaysia, from Vietnam to Venezuela. The signatories stressed the need to address rampant
human rights violations across China
, including in
Hong Kong
, Tibet, and
Xinjiang
. They also highlighted the impact of China's rights violations worldwide, including the
targeting of human rights defenders
;
global censorship and surveillance
; and rights-free development that has caused environmental degradation.
Rohingya
Amnesty International has gathered
new evidence of indiscriminate attacks on civilians in Rakhine State in Myanmar
, amid serious escalations in the ongoing armed conflict between the Myanmar military and the Arakan Army (AA).
This evidence is based on firsthand testimony, photographs and video obtained from inside Rakhine State, and analysis of satellite imagery as well as media reports and civil society sources. Amnesty International is also concerned at 
recent reports
 of an increased presence of Myanmar military troops along the Myanmar-Bangladesh border. Further, the
Bangladeshi authorities must ensure the protection of Rohingya refugees
following violent clashes between armed criminal gangs that have killed at least eight people and injured hundreds of others in camps in Cox's Bazaar since October 4. In advance of the virtual donor conference on Rohingya refugees, Amnesty International USA's Senior Policy Advisor, Ryan Mace, sent a letter to Deputy Secretary of State Edward Biegun and Acting U.S. Agency for International Administrator John Barsa, outlining our top recommendations to the USG.
Read more here.
Democratic Backsliding
Amnesty International submitted a statement for the September 30 hearing on Democratic Backsliding in Sub-Saharan Africa before the House Subcommittee on Africa, Global Health, Global Human Rights and International Organizations. Amnesty urges Congress to robustly funding the international affairs account and ensure transparency and accountability by recipient governments for U.S. COVID-19 assistance.
Cameroonian deportations
In early October, several organizations filed a complaint with DHS condemning the agency for deploying excessive force to coerce Cameroonian asylum-seekers into signing their own deportation papers. Amnesty calls on Congress to urge the Trump administration to refrain from deporting people to Cameroon, as they face a high risk of being detained, beaten, disappeared, tortured, or even killed upon return.
Libya
Amnesty International published a report: 'Between life and death': Refugees and migrants trapped in Libya's cycle of abuse documents the harrowing accounts of refugees and migrants who have suffered or witnessed a litany of abuses in Libya including unlawful killings; enforced disappearances; torture and other ill-treatment; rape and other sexual violence; arbitrary detention; and forced labor and exploitation at the hands of state and non-state actors in a climate of near-total impunity. Amnesty continues to call for the passage of the bipartisan Libya Stabilization Act (H.R. 4644, S. 2934) in order to provide relief those affected by the conflict and push for a resolution to the hostilities and end to human rights abuses.
Belarus
Belarus has faced daily protests following an election on August 9 that saw the country's president Alexander Lukashenka declared the winner with 80% of the vote. Since the start of the protests, Amnesty International has repeatedly documented Belarusian authorities' violation of their citizens most basic freedoms including the freedom of peaceful assembly, association, expression. On October 13, Gennady Kazakevich, the first deputy of the Interior Ministry of Belarus, threatened to fire on peaceful demonstrators with live rounds. In an interview with Public Radio International's The World program, Amnesty International USA's advocacy director Daniel Balson condemned this escalation and pointed to Belarusian authorities repeated use of torture against peaceful demonstrators.  
Violence in Armenia and Azerbaijan
As violence continues between Armenia and Azerbaijan over the Nagorno-Karabakh region, Amnesty has called on both sides to prioritize the protection of civilians. Amnesty International USA wrote to Acting Assistant Secretary of State for European and Eurasian Affairs Ambassador Philip T. Reeker to call on the State Department to push for protections for civilians on both sides of the front line. In particular, Amnesty International was able to verify the use of cluster munitions by Azerbaijani armed forces in the city of Stepanakert, the capital of Nagorno-Karabakh. In an interview with Voice of America – Azerbaijani service, Amnesty International USA's Advocacy Director for Europe and Central Asia Daniel Balson condemned the use of cluster munitions, describing them as indiscriminate weapons that risk killing and maiming civilians, including children. Over 100 countries have signed on to the Convention on Cluster Munitions, an international treaty that proscribes the use, production, transfer or stockpiling of cluster bombs.
Domestic Updates
U.S. Refugee Admissions
On October 1 President Trump sent a report to Congress outlining his intention to set the refugee admissions goal at 15,000 — the lowest refugee goal in U.S. history. Amnesty International USA issued a statement decrying the latest cut in refugee admissions and urging Congress to pass the Guaranteed Refugee Admissions Ceiling Enhancement Act or GRACE Act (H.R. 2146, S. 1088), which would return refugee admissions to norms predating the current administration, of at least 95,000 refugees per year.
Technology and Human Rights
Ahead of the direct listing of Palantir Technologies, Inc. on the New York Stock Exchange in September, Amnesty International released a briefing documenting how Palantir is failing to conduct human rights diligence around its contracts with DHS Customs and Immigration Enforcement ("ICE") and is at high risk of contributing to human rights violations of asylum-seekers and migrants through the ways Palantir's technology facilitates ICE immigration enforcement operations. Congress should conduct oversight into all aspects of Palantir's contracting with federal government agencies, including contracts with DHS/ICE for technologies that risk facilitating human rights abuses.
Pastor Steven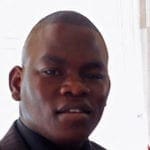 In early September, Pastor Steven, an ordained minister, activist and asylum-seeker detained for over 20 months, was told he would be imminently deported to Uganda, where an official there said he would likely be killed upon arrival. Thanks to congressional intervention and activist pressure, ICE agreed to stay his deportation until the federal appeal on his asylum claim is heard before the Fifth Circuit Court of Appeals. However, Pastor Steven remains detained in the Port Isabel detention facility where there have been outbreaks of COVID-19. Pastor Steven is diabetic and inadequate medical care in detention has left him with a compromised immune system. Amnesty renews its ask to Congress to
call on ICE to release him
so he can pursue the right to seek asylum in safety and with access to the care he needs.
Families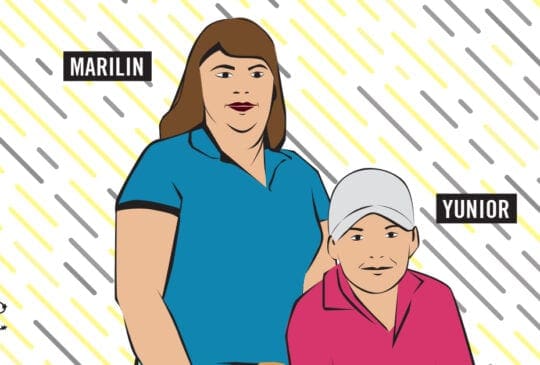 Great news: Due to their lawyer's advocacy and activist pressure on ICE, Marilin and 11-year-old Yunior, a Honduran family seeking asylum, were released from ICE family detention. Amnesty renews its calls to Congress to urge ICE to
release all remaining families.
Billboards
were previously launched in DC and in Texas and Pennsylvania, outside family detention centers and supervising ICE offices, calling on ICE to release all children with their parents together.
Supreme Court Cases on Remain in Mexico
On October 19, the Supreme Court announced it would grant review petitions for two key immigration cases. The first involves a challenge to the 'Remain in Mexico' policy, which has unlawfully sent over 60,000 asylum-seekers, including families and children, to danger and precarity in Mexican border towns where they are regularly kidnapped, extorted, tortured, and otherwise harmed by cartels and criminal elements. The second involves the president's authority to divert Defense Department funds to construct a wasteful, costly, and harmful border wall over Congress's explicit instructions for use of these funds. Challenges to both policies have thus far been successful, though the Supreme Court previously stepped in to halt the lower court's decisions, allowing both policies to continue despite their illegality and serious human costs.
Toxic Twitter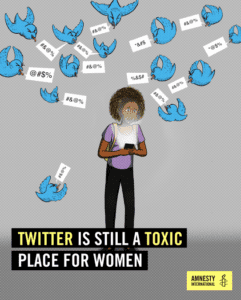 On September 22, Amnesty International released the 
Twitter Scorecard
, highlighting Twitters lack of progress in addressing abuse against women on the platform. The persistent abuse women face on the platform undermines their right to express themselves equally, freely and without fear. Amnesty first highlighted this issue with the 2018 
Toxic Twitter
report, with follow-up reports focused on the 
USA and UK
, 
Argentina
 and 
India
. For the Scorecard, we synthesized the recommendations from these previous reports into ten simple indicators, outlining clear steps that Twitter can take to address this issue. To date, Twitter has only fully implemented one of these ten steps.
Rights of Children in Climate Crisis
In September  a concurrent resolution – S.Con.Res.47 & H.Con.Res.119 – was introduced to protect the rights of children harmed by the climate crisis. The resolution demands that the United States develop a national, comprehensive, science-based climate recovery plan to meet necessary emissions reduction targets. Amnesty International urges Congress to pass the resolution. Read more here.
Covid-19 and Human Rights
Guantanamo Bay Detention Facility
AIUSA's Security with Human Rights program urges lawmakers to demand more information from the Department of Defense about how it plans to protect detainees at the Guantanamo Bay detention center in the wake of an
apparent outbreak
of COVID-19 at the US naval base. Providing adequate health care to ageing detainees, many of whom suffer serious injuries due to their torture by US officials,
>has long been a major challenge
. The pandemic has made the situation even more urgent. As 11 Senators who signed
a May 27 letter
to Defense Secretary Mark Esper put it in
a statement,
DoD's response to their previous inquiries "leaves doubts about the Guantánamo prison's capacity to protect military personnel and detainees from Covid-19."  Amnesty also urges Congress to lift existing restrictions in the National Defense Authorization Act on transferring detainees to the U.S. for medical treatment or trial. 
Human Rights Wins
Indigenous women in the U.S.
Amnesty International applauds passage of Savanna's Act which was signed by the President on October 10. The law addresses the crisis of Missing and Murdered Indigenous Women and Girls ("MMIWG") in the U.S. The new law: 1) improves collection of data; 2) increases coordination between state, federal, and tribal law enforcement; and 3) requires Justice Department reporting on MMIWG.
Welcome New Staff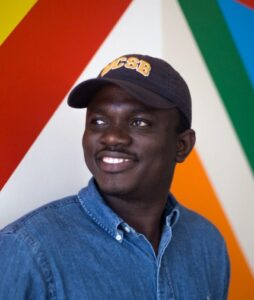 In September, Alagie Jammeh joined Amnesty International USA as the Almami Cyllah Fellow. An asylee originally from The Gambia, Alagie formerly interned in Senator Schumer's office and is a current master's degree candidate at George Washington University's Elliott School of International Affairs. Alagie's work at Amnesty International will focus on human rights in sub-Saharan Africa.
Connect with Us
Please don't hesitate to reach out to any of our experts or email

[email protected]

for a general inquiry.
Regional Experts
Americas, U.S. Southern Border: Charanya Krishnaswami Middle East/North Africa: Philippe Nassif Sub-Saharan Africa: Adotei Akwei Thematic Experts
Surveillance, Technology, Digital Rights: Michael Kleinman Refugees & Global Displacement / Gun Violence: Ryan Mace Gender, Sexuality, and Identity / Indigenous Rights: Tarah Demant National Security: Daphne Eviatar Human Rights Defenders, Prisoners of Conscience & Individuals at Risk: Andrew Fandino Turkey specialist: Deniz Yuksel