HUMAN RIGHTS ON CAPITOL HILL
Featured: PRESIDENT BIDEN'S FIRST 100 DAYS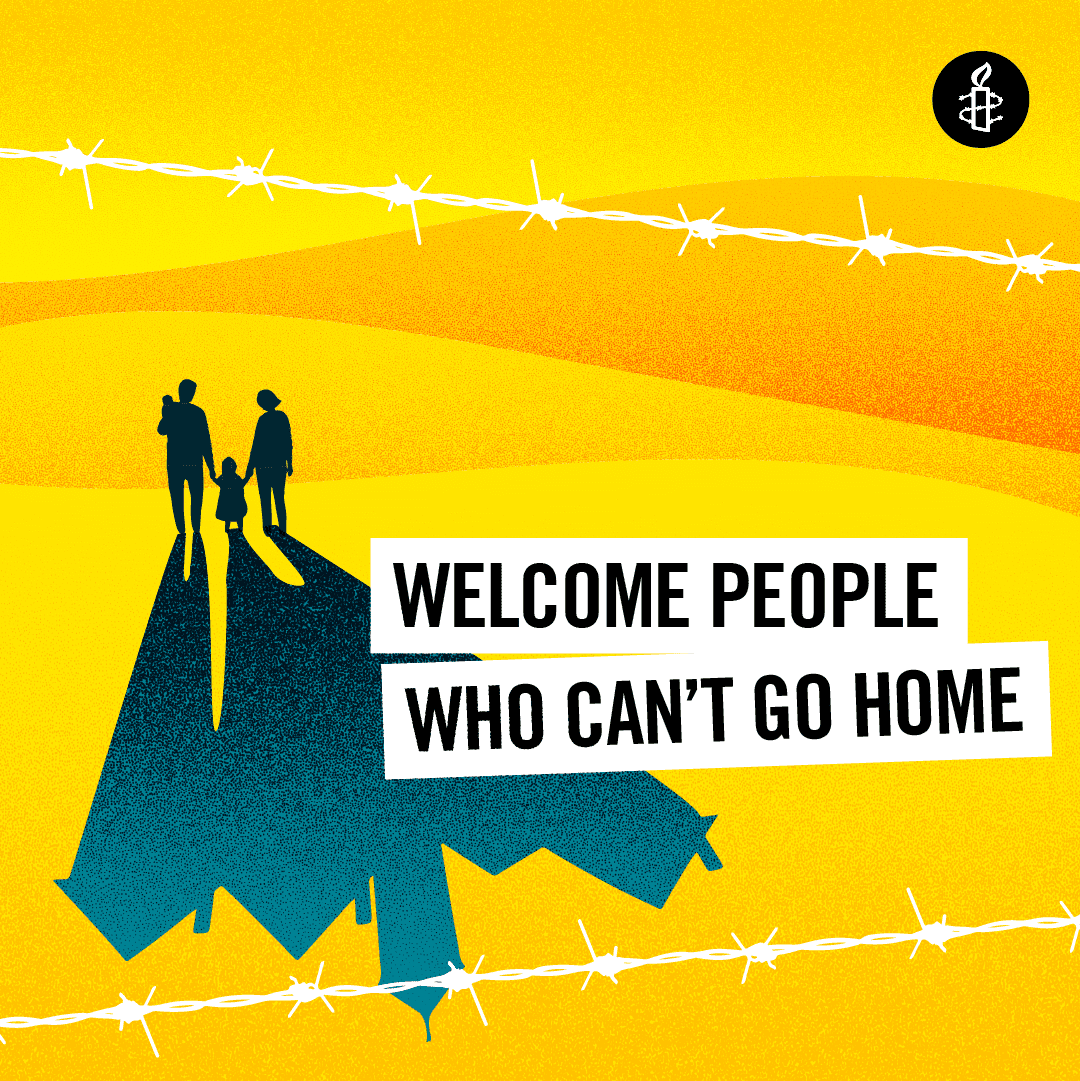 As President Biden marks his 100th day in office, Amnesty International USA launched the "Welcome Pledge" to voice the principles that the President and his administration should embrace in order to build a country that is a place of welcome, refuge, respect, and dignity for all. The pledge—signed by many celebrity artists including George Takei, Don Cheadle, Rosario Dawson, Ben Stiller, Debra Messing, and more—urges lawmakers to ensure that all asylum seekers are provided access to a fair process including legal representation. Sign our pledge here! 
The Biden administration has implemented several significant measures to rectify the cruel inhumane policies of the prior administration, including repealing the Muslim Ban and Africa Ban, phasing out the Migrant Protection Protocols initiative along the Mexico border, and removing the discriminatory classifications in the refugee program. The administration has also reduced the family detention population and has instituted a whole-of-government strategy to screen, process, and house unaccompanied children at the border.
However, with respect to humanitarian protection as a whole, the Biden administration has chosen to continue Trump-era policies and to adopt them as official Biden administration policies. First and most notably, on Apr. 16 President Biden signed a FY21 refugee cap of 15,000—the all-time historic low cap set by former President Trump in 2020. If present trends continue, President Biden is on track to become the president who receives the fewest refugees in U.S. resettlement history. 
As a presidential candidate, Joe Biden pledged to welcome 125,000 refugees during his first year in office. In Feb. 2021 Secretary of State Blinken notified Congress that the administration planned to admit up to 62,500 refugees in FY21. Over 100,000 refugees are awaiting resettlement in the U.S., and over 35,000 are approved and vetted for travel to the U.S. The President has stated that he will issue a revised refugee cap by May 15. Amnesty International calls on the President to fulfill his prior commitment to admit up to 62,500 refugees in FY21 and 125,000 refugees in FY22.
Second, on the southern border front, Homeland Security ("DHS") Secretary Mayorkas has chosen to continue the Trump/Pence policy of invoking a public health quarantine authority to close the southwest border and to block and expel adult asylum seekers. In 2020 the CDC's senior scientists indicated that invocation of this public health authority is not supported by scientific evidence or data. DHS's policy of blocking and expelling adult asylum seekers violates the Refugee Convention, Refugee Act, and Convention Against Torture.
Finally, for those asylum seekers in the U.S., many remain locked up in immigration detention facilities, including facilities run by private prison corporations. While the President has instructed the Justice Department ("DOJ") to phase out use of private prisons, no such directive has been given to DHS. Immigration and Customs Enforcement ("ICE") continues to contract with private prison titans that profit over the jailing of asylum seekers and immigrants.
Amnesty International USA calls on the President to fulfill his prior promises to: (1) resettle up to 62,500 refugees for FY21 and 125,000 refugees for FY22; (2) end the use of private prisons in immigration detention; (3) listen to the scientists and stop misusing public health authority to block and expel asylum seekers; (4) restore U.S. global leadership by ensuring that the U.S. does its fair share to welcome people on the run in search of safety.
Amnesty sent an Apr. 20 letter to DHS Secretary Mayorkas urging major overhaul of ICE enforcement priorities including releasing people from detention, ending use of private prisons and county jails for immigration detention, halting use of jail-like detention facilities, and building a system of community-based alternatives to detention.
Amnesty welcomes the introduction of the Freedom for Families Act (by Senators Merkley, Wyden, Booker, Markey) which prohibits ICE from detaining families, shuts down family detention facilities, and supports the expansion of humane, community-based alternatives to support families seeking safety. This bill is an important companion to the Dignity for Detained Immigrants Act (S.1186, H.R.2222) that would transform the immigration detention system. We urge Congress to swiftly pass both the Freedom for Families Act and Dignity for Detained Immigrants Act.
domestic updates
Anti-Asian discrimination

Amnesty welcomes Senate Passage of the COVID-19 Hate Crimes Act (S.937) and the Khalid Jabara and Heather Heyer National Opposition to Hate, Assault, and Threats to Equality ("Jabara-Heyer NO HATE") Act (S.2043, H.R.3545). We urge the House to swiftly pass this critical legislation to curb the growing tide of hate crimes against Asian American and Pacific Islander communities.
In an Apr. 21 letter Amnesty International urged the Biden administration to end the China Initiative, a Trump/Sessions initiative involving the DOJ, FBI, NIH, and NSF. The China Initiative has led to the federal government's racial profiling and targeting of Asian American and Asian immigrant scientists, researchers, and scholars. Over 29,000 directly impacted individuals submitted a petition to the White House urging an immediate end to the China Initiative.
Amnesty lauds the House for passing the National Origin-Based Antidiscrimination for Nonimmigrants ("NO BAN") Act (H.R. 1333) and the Access to Counsel Act (H.R. 1573). We call on the Senate to swiftly pass both bills to ensure that no president, current or future, can impose travel bans that discriminate on the basis of religion.
international updates
COVID-19 WORLDWIDE

The fragility of the global supply chain for vaccines has been exposed as India and other critical producers of generic vaccines are overcome with surging demand amid increasing cases. Amnesty calls on the Biden administration to support the temporary World Trade Organization TRIPS waiver to boost global vaccine production and International Monetary Fund issuance of $2 trillion in Special Drawing Rights for low-income and middle-income countries to combat the pandemic. Congress should swiftly pass the Robust International Response to Pandemic Act (H.R.986); Robust International Response to Pandemic Act (HR.986); and Support for Global Financial Institution Pandemic Response Act (S.67) to support global COVID-19 response efforts.
On Apr. 20 Amnesty International published our Global Report on Death Sentences and Executions 2020. Since 2019, executions globally have declined by 26 percent decrease. China, Iran, Egypt, Iraq, Saudi Arabia, and the U.S. were the world's leading executioners in 2020. 
Notably, the U.S. was the only country in the Americas to conduct executions during the pandemic. In July 2020, the Trump administration ended a 17-year hiatus on federal executions, by carrying out 10 federal executions in six months, making up the majority of U.S. total executions. Globally, 33 countries issued pardons, and there were at least 18 exonerations of people under sentence of death. Read the report, press release and fact and figures for more information.
GUANTÁNAMO

Amnesty International applauds Senators Durbin (D-IL) and 23 other Senators for sending a letter to the President urging him to finally close the Guantánamo Bay detention facility and to appoint a Special Envoy for Guantánamo Closure at the State Department. 
eurasia
russia
In April, Amnesty's Secretary General Agnès Callamard wrote to Vladimir Putin calling on the Kremlin to release political activist Aleksei Navalny and to provide him with access to a medical professional of his choosing. Amnesty International USA echoed Callamard's calls in an Apr. 6 letter to Ambassador Anatoly Antonov of the Russian Federation. Since the start of his detention in January, Navalny has complained of severe back and leg pain and of being subjected to a regimen of sleep deprivation at the hands of prison authorities. 
Amnesty welcomes House Foreign Affairs Subcommittee Chairman Keating (D-MA) and Ranking Member Fitzpatrick's (R-PA) meeting with Navalny's advisors and their statement calling for his release. Congress should demand that Russian authorities live up to their obligations under domestic and international law. Amnesty's grassroots membership is pressing the government of the Russian Federation to immediately release Navalny.
africa
ETHIOPIA
Amnesty's Adotei Akwei joined former U.S. Ambassador Michelle Gavin on an Apr. 5 World Affairs Councils of America podcast to discuss the recent surge of violence in Ethiopia. Congress should swiftly pass S.Res.97 calling on the Government of Ethiopia and the Tigray People's Liberation Front to protect human rights, allow unfettered humanitarian access, and cooperate with independent investigations of atrocity allegations pertaining to the conflict in Tigray.
In Case You Missed it
On Apr. 15 Paul O'Brien joined Amnesty USA as our new Executive Director. O'Brien brings a wealth of experience in international leadership, including 14 years at Oxfam America where he oversaw campaigning, policy, and advocacy.
On Apr. 29, Amnesty's Philippe Nassif testified at a Tom Lantos Human Rights Commission hearing on human rights and U.S. policy in the MENA region 10 years after the Arab Spring. Watch here.
Connect with us
Please don't hesitate to reach out to any of our experts or email

[email protected]

for a general inquiry.
Regional Experts
Middle East, Americas: Philippe Nassif Thematic Experts
Surveillance, Technology, Digital Rights: Michael Kleinman Gender, Sexuality, and Identity / Indigenous Rights: Tarah Demant National Security: Daphne Eviatar Human Rights Defenders, Prisoners of Conscience & Individuals at Risk: Andrew Fandino COVID-19, Gun Violence, and all Other Issues: Joanne Lin