HUMAN RIGHTS ON CAPITOL HILL
Featured: Israel and Occupied Palestinian Territories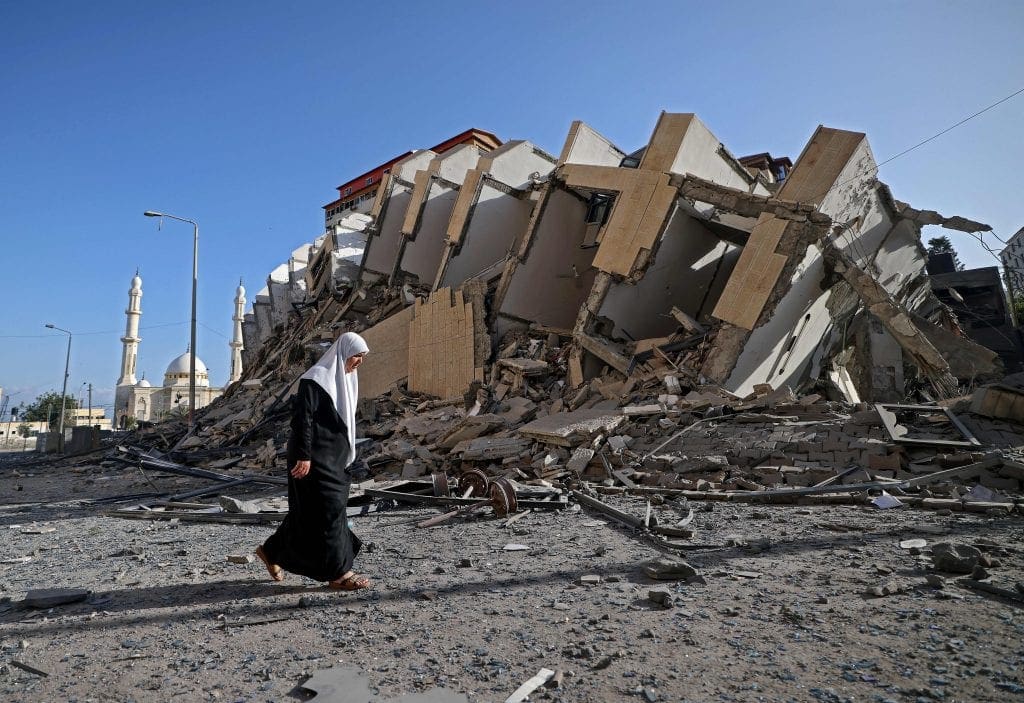 Amnesty International USA supports joint resolutions, introduced by Rep. Ocasio-Cortez and Sen. Sanders, to block the United States' pending $735 million weapons sale to Israel. Israeli forces have carried out airstrikes in Gaza targeting residential buildings and family homes, in some cases killing entire families. These attacks may amount to war crimes or crimes against humanity and must be investigated. By planning to supply hundreds of millions of dollars' worth of weapons to Israel, the U.S. government stands to help carry out war crimes and kill or injure more people with U.S.-made precision guided missiles. The U.S. must halt this arms sale. Read our statement here.
Responding to recent antisemitic incidents reported in the U.S., Amnesty USA executive director Paul O'Brien said: "As a human rights organization committed to fighting discrimination wherever it is committed, we condemn antisemitism in the strongest possible terms. Intimidating worshippers at synagogues, defacing the Star of David, and using images and words that invoke antisemitic tropes is appalling and abusive, and when done in the name of protesting the actions of the Israeli government, belie the perpetrator's motives and do nothing to advance human rights." Read our full statement.
domestic updates
On May 13 the Immigration and Customs Enforcement ("ICE") Acting Director testified that the immigration detention population has increased dramatically from 15,415 in Jan. 2021 to 20,430 as of May 14—a near 33 percent increase in a four-month period. In a May 4 letter Amnesty urged Congress to pass the Dignity for Detained Immigrants Act (S.1186, H.R.2222) and Freedom for Families Act (S.1517, H.R.2925), necessary legislation to end the longstanding human rights abuses in the immigration detention system. 
Amnesty submitted a statement for the record to the May 12 Senate Committee on Homeland Security and Government Affairs hearing on DHS Actions to Address Unaccompanied Minors at the Southern Border. We urge the administration to uphold its human rights obligations to meet the best interests of children through immediate and systemic change, as it works to welcome children with humanity, compassion, and care.
Read Amnesty's May 13 Newsweek op-ed laying out a roadmap for immigration detention reform and our May 17 Newsweek op-ed outlining steps the Biden administration must take to make the U.S. a safe refuge.
Anti-Asian Discrimination

Amnesty celebrates the enactment of the COVID-19 Hate Crimes Act as a major step forward to address racial violence by improving hate crimes reporting in order to hold government and law enforcement accountable to the needs of communities of color. We call on the Biden administration to immediately end the "China Initiative" which has led to the federal government's racial profiling and targeting of Asian American and Asian immigrant scientists, researchers, and scholars, particularly those of Chinese descent.
international updates
June marks the beginning of Pride celebrations for many communities across the nation and world. This Pride, Amnesty is calling attention to the devastating impact that the Global Gag Rule has on LGBTQI+ people worldwide. Under Global Gag, LGBTQI+ people are denied critical health services and their social movements are weakened. Ending the Gag Rule is an urgent global health and human rights priority. Congress must pass the Global Health, Rights and Empowerment (HER) Act (H.R.556, S.142). Learn more at www.endgagnow.org.
CONGRESS MUST PASS LEGISLATION TO COMBAT GENDER-BASED VIOLENCE
Congress should swiftly pass Safe from the Start Act (H.R.571, S.765). In humanitarian situations, women and girls face an increased risk of rape, child marriage, domestic violence, human trafficking, exploitation by humanitarian personnel, and other forms of gender-based violence ("GBV"). This legislation would ensure services for girls and women who are exposed to GBV during humanitarian crises, and would establish tools to promote greater efficiency and accountability of response and recovery efforts.
Amnesty sent a May 17 letter to the Vice President urging her to raise human rights concerns during her trip to Guatemala and Mexico. As the Biden administration tackles root causes of displacement and migration, including climate change, it must develop and implement a strategy centered on human rights and humanitarian protection.
Amnesty has verified visual evidence demonstrating that U.S. weapons and equipment are being used to commit human rights violations against protesters in Colombia. Amnesty issued this May 5 statement calling on Secretary of State Blinken to immediately cease the direct or indirect supply, sale, or transfer of equipment used for repression such as small arms, shotguns, and related ammunition; less-lethal equipment, such as tear gas, riot control projectiles and launchers; armored vehicles, dual-use surveillance technologies, training, and any other technical or financial assistance.
eurasia
Exiled Belarusian journalist and government critic Raman Pratasevich and his partner Sofia Sapega were unlawfully arrested in Minsk on May 23, after Belarusian authorities forced their flight from Athens to Vilnius to land under false pretext. Both remain at risk of torture and other ill-treatment. U.S. officials should continue to call for their release as well as for the release of all individuals detained for peacefully dissenting.
Amnesty submitted a statement for the record to the May 18 House Foreign Affairs Committee hearing titled "The U.S.-Afghanistan Relationship Following the Military Withdrawal." The statement detailed human rights concerns of Afghan women, human rights defenders ("HRDs"), and internally displaced persons ("IDPs"). We are calling on the Biden administration and Congress to use every diplomatic avenue to ensure that women are granted a seat at the negotiating table in Afghanistan, and to prioritize the rights of Afghan women and girls as part of its engagement with the Government of Afghanistan. Amnesty further calls on Congress to make funding available to directly support the work of Afghan HRDs and civil society organizations assisting IDPs.
Following the news that the Biden administration cleared three more Guantánamo detainees for transfer out of the prison, Amnesty issued a May 18 statement urging the U.S. government to transfer all detainees not charged with crimes to countries where their human rights will be respected. Amnesty calls on President Biden to appoint a senior official to negotiate detainee transfers in a timely manner. With Guantánamo now in its 20th year of indefinitely detaining Muslims without charge or trial, Congress should press the administration to end this human rights atrocity—a key step to restoring U.S. leadership on human rights globally. For more information, check out Amnesty's latest report on Guantánamo.
Welcome News
USTR SUPPORT FOR COVID-19 INTELLECTUAL PROPERTY WAIVER

Amnesty commends USTR Ambassador Tai and administration officials for supporting the emergency COVID-19 intellectual property waiver under consideration at the World Trade Organization. Adoption of this waiver is critical in order to disseminate vaccine technology to middle-income and low-income nations, so that all people worldwide can get access to vaccines and treatment, as quickly as possible. By reversing the prior administration's position, President Biden has made clear that the U.S. prioritizes people's lives over pharmaceutical company profits.
HAITI DESIGNATED FOR TPS

Amnesty lauds the administration's designation of Haiti for Temporary Protected Status ("TPS"). Haiti's human rights situation has long been dire, with excessive force against protesters, impunity for police brutality, and gang violence. TPS is necessary to protect Haitians in the U.S. from being deported to violent conditions.
REFUGEE ADMISSIONS CAP AT 62,500
Amnesty welcomes President Biden's revised refugee cap of 62,500 for this fiscal year ("FY"). We urge the administration to move with speed to welcome 62,500 refugees by October and at least 125,000 refugees in FY 2022.
NEW AMNESTY MID EAST FELLOW
Amit Dadon is Amnesty's inaugural Mustafa Kassem Fellow for Human Rights in the Middle East and North Africa. Previously, Amit advocated for gun violence prevention with March for Our Lives. 
Connect with us
Please don't hesitate to reach out to any of our experts or email

[email protected]

for a general inquiry.
Regional Experts
Middle East, Americas: Philippe Nassif Thematic Experts
Surveillance, Technology, Digital Rights: Michael Kleinman Gender, Sexuality, and Identity / Indigenous Rights: Tarah Demant National Security: Daphne Eviatar Human Rights Defenders, Prisoners of Conscience & Individuals at Risk: Andrew Fandino COVID-19, Gun Violence, Asylum/Immigration and all Other Issues: Joanne Lin