What is the problem?
Around the world, people are under attack for who they are.
People who are lesbian, gay, bisexual, transgender, queer, or intersex (LGBTQI*) face threats to their lives in many countries across the globe. LGBTQI+ people face discrimination and violence from both state and non-state actors.
Discrimination on the basis of one's sexual orientation, gender identity and/or expression, and sex characteristics can have a devastating effect on physical, mental and emotional well-being for those forced to endure it.

Discrimination and violence against LGBTQI+ people can come in many forms, from name-calling, bullying, harassment, to being denied a job or appropriate healthcare, to physical attacks. Protests to defend the human rights of LGBTQI+ people also face suppression across the globe.

The range of unequal treatment faced is extensive and damaging and could be based on:
Sexual orientation

(who you're attracted to)

Gender identity

(how you self-identify, irrespective of the sex assigned at birth)

Gender expression

(how you express your gender, for example, through your clothing, hair, or mannerisms)

Sex characteristics

(for example, your genitals, chromosomes, reproductive organs, or hormone levels)
LGBTQI+ people globally should be able to live lives of dignity and fully enjoy all their human rights, including their right to life, freedom and safety.
Why is it an issue?
Discrimination and attacks persist in law and society.
No one should experience discrimination or violence based on our sexual orientation, gender identity and/or expression, and sex characteristics. The equality and non-discrimination guarantee provided by international human rights law applies to all people, regardless of sex, sexual orientation, gender identity, sex characteristics or gender expression. But in practice, many countries continue to implement and introduce laws that single out and discriminate against LGBTQI+ people.
By the numbers
60
There are more than 60 countries around the world that still have laws criminalizing homosexuality, many of which can be traced back to European colonization.
By the numbers
490
Over 490 bills have been introduced in 49 states this year attacking the rights and oftentimes the very existence of transgender people.
By the numbers
60%
of people reported that they had experienced an increase in abusive and hateful speech on Twitter since 2022
---
Source: https://www.amnestyusa.org/press-releases/hateful-and-abusive-speech-towards-lgbtq-community-surging-on-twitter-under-elon-musk/
In some countries, such as Brunei, Iran, Mauritania, Saudi Arabia, and Yemen, and in some states in Nigeria and Somalia, people can be sentenced to the death penalty if they engage in consensual, same-sex sexual acts.
Discrimination goes beyond being criminally prosecuted for being an LGBTQI+ person and can include limited access to healthcare, difficulty in securing employment, bullying or harassment in the workplace and much more.
Rise in attacks on LGBTQI+ Rights in the US
In the United States, anti-trans bills and cruel rhetoric are inspiring violent threats and attacks against LGBTQI+ communities. State legislatures have introduced hundreds of anti-trans bills – most targeting transgender youth. These bills are getting more extreme with every iteration: they prohibit healthcare for transgender youth and young adults, establish restrictions for single-sex facilities, exclude transgender youth from athletics, and ban LGBTQI+-inclusive curricula. 
In addition to the rise in cruel anti-trans legislation, politicians in the US continue to increase vicious rhetoric, putting real people at risk as threats and rates of violence against transgender people continue to increase. Such attacks on transgender people – who already face a heightened risk of violence, homelessness, and poverty – are terrifying and heartbreaking.
What is the solution?
Protect the rights and lives of LGBTQI+ people.
Governments must implement comprehensive frameworks for protecting the rights of LGBTQI+ people, not only decriminalizing marginalized gender identities but also ensuring equal and full access to healthcare and protections from discrimination in policing, housing, employment, and all other aspects of life.
Resources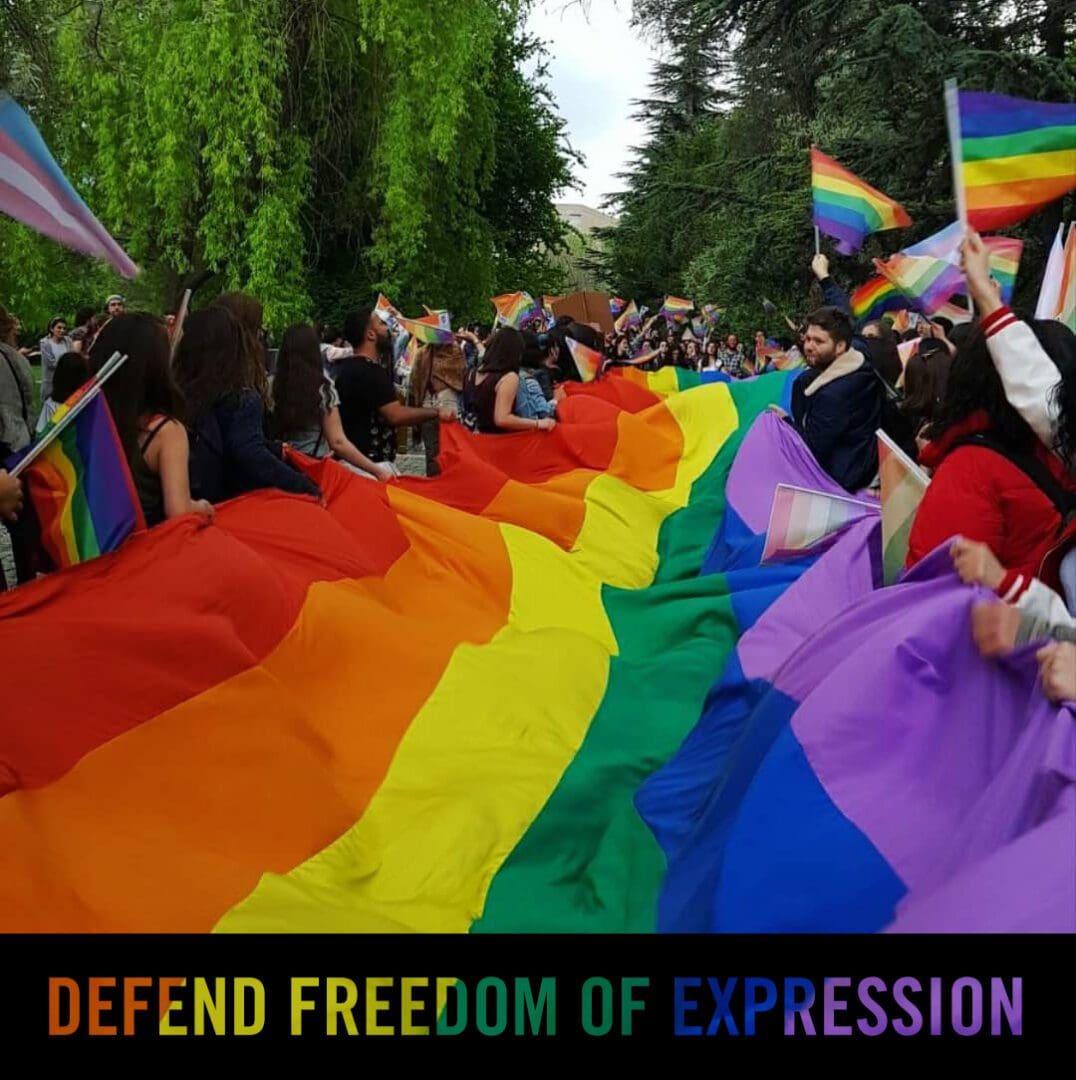 PRIDE
Every year, we celebrate Pride with LGBTQI+ activists around the world, celebrating and fighting for our rights. Recognizing both the cause for celebration and the need for activism, join us and take action for LGBTQI+ this Pride—and all year long!
PRIDE 2023
Do you ever wonder about the LGBTQI+ acronyms or other terms?
LGBTQI+ Glossary
You can check out one glossary below to learn more about some of the terms you see. Our team uses different acronyms at different times. "LGBTI" is often used in human rights law and practice (as terms that are defined in multilateral documents and covenants), but we tend to use LGBTQI+ when speaking about the broader movement or people to be more inclusive. Terms and acronyms, like all language, evolve and change as we seek to be inclusive and defend the rights of all people.