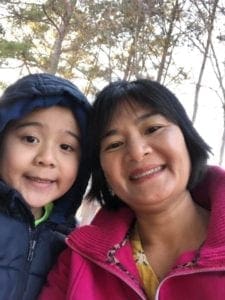 NO FURTHER ACTION IS REQUESTED. MANY THANKS TO ALL WHO SENT APPEALS.
Tran Thi Nga was released, after serving three years in prison, on 9 January 2020. The condition imposed by the Vietnamese government was for her to go into exile. Tran Thi and her family have since arrived in the USA, where they will begin to start their news lives.
Arrested in January 2017, Tran Thi Nga was then convicted and sentenced to nine years in prison for "conducting propaganda against the state" under article 88 of the 1999 penal code for her involvement in peaceful protests following the 2016 Formosa environmental disaster
A well-known human rights defender, Thi Nga has advocated for the rights of migrant workers, displaced persons and involved in environmental rights movements. Due to her activism, she has been subjected to harassment and intimidation and even physical assault many times over the years.
Following her release, Tran Thi Nga shared the following message: "I thank Amnesty International for your tireless effort in demanding for my freedom, I am happy that my family are now reunited and living in peace. However, there are still many prisoners of conscience in Vietnam, I sincerely hope that Amnesty International will continue to fight for their freedom."
ADDITIONAL RESOURCES