Azerbaijani opposition politician and journalist Tofig Yagublu was sentenced to four years and three months in prison on 3 September on trumped up charges. He started a hunger strike in protest and on 12 September he was transferred from a detention center to a hospital after his health deteriorated. On 18 September, the Baku court of appeals ruled to place him under house arrest pending the appeal hearing. Tofig Yagublu remains a prisoner of conscience and his conviction must be quashed.
TAKE ACTION: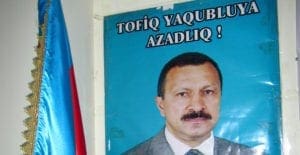 Write a letter in your own words or using the sample below as a guide to one or both government officials listed. You can also email, fax, call or Tweet them.
Click here to let us know the actions you took on Urgent Action 38.20. It's important to report because we share the total number with the officials we are trying to persuade and the people we are trying to help.
CONTACT INFORMATION
SAMPLE LETTER
Dear President, I am concerned about the conviction in an unfair trial of Tofig Yagublu, a prominent Azerbaijani opposition politician and journalist. Tofig Yagublu was arrested in Baku on 22 March after a car accident in which he was involved. The next day, the Baku City Court remanded Tofig Yagublu in custody on false charges of hooliganism. Following a politically motivated trial, he was convicted on 3 September and sentenced to four years and three months in prison. Tofig Yagoublu started a hunger strike on 2 September in protest against his unfounded prosecution. On 12 September he was transferred to a hospital after his health deteriorated as a result. On 18 September, the Baku court of appeals ruled to place him under house arrest, pending his appeal hearing. Tofiq Yagoublu is a prisoner of conscience imprisoned solely for exercising his human rights. I urge you to take all necessary steps to ensure Tofig Yagublu's immediate and unconditional release; and ensure an end to the persecution of Tofig Yagublu and other political and civil activists, and that every person in Azerbaijan is able to fully enjoy their human rights, including the rights to freedom of expression and peaceful assembly. Yours sincerely,
[YOUR NAME]
ADDITIONAL RESOURCES