Ministry of Intelligence agents are torturing Iranian Kurdish woman Zeynab Jalalian by deliberately denying her health care to coerce her into providing a videotaped "confession". This intentional denial of health care is causing her severe pain and suffering, particularly as she has serious medical conditions, including post-Covid-19 breathing difficulty.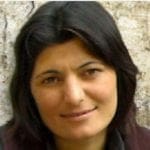 TAKE ACTION:
Write a letter in your own words or using the sample below as a guide to the government official listed below. You can also email, fax, call or Tweet them.
Click here to let us know the actions you took on Urgent Action 151.14. It's important to report because we share the total number with the officials we are trying to persuade and the people we are trying to help.
CONTACT INFORMATION
Head of Judiciary, Ebrahim Raisi c/o H.E. Majid Takht Ravanchi
Permanent Mission of the Islamic Republic of Iran 622 Third Avenue, 34th Floor New York, NY 10017 Phone: 212 687-2020 I Fax: 212 867 7086 Email:
[email protected]
Twitter:
@Iran_UN
SAMPLE LETTER
Dear Mr. Raisi, Since 29 April 2020, as prisons across Iran experienced outbreaks of COVID-19, Ministry of Intelligence agents have transferred Iranian Kurdish woman Zeynab Jalalian to four different prisons across the country and, in violation of the absolute prohibition against torture and other ill-treatment, held her in prolonged solitary confinement and deliberately denied her access to adequate health care. The Ministry of Intelligence is conditioning access to adequate health care, transfer to a prison closer to her family home in West Azerbaijan province and an end of reprisals against Zeynab Jalalian and her family on her "confessing" to wrongdoing and expressing remorse for her past political activities on camera and agreeing to work with the Ministry of Intelligence. Zeynab Jalalian has been intentionally denied transfer to outside facilities for medical treatment unavailable in prison for over six years. Only once in 2020, she was briefly provided health care outside of prison in June after testing positive for COVID-19. She has had no further adequate access to health care, including for a post COVID-19 respiratory condition and for a serious eye condition. On 29 November 2020, Ali Jalalian, Zeynab Jalalian's father, was arrested by Ministry of Intelligence officials and interrogated about speaking about his daughter with human rights organizations and media outside of Iran; he was released on bail a day later. Zeynab Jalalian is serving a life sentence in Yazd prison, 1,400 km away from her family home, following a grossly unfair trial in December 2008 that lasted a few minutes without her lawyer present. I call on you to immediately release Zeynab Jalalian by implementing the recommendation of the UN Working Group on Arbitrary Detention, which calls for her to be released immediately and accorded an enforceable right to compensation. Pending her release, she must be provided with adequate health care, including transfer to outside facilities for treatment unavailable in prison and protected from further torture and other ill-treatment. I call on you to order a prompt, independent, effective and impartial investigation into her allegations of torture and other ill-treatment. Yours sincerely,
[YOUR NAME]
ADDITIONAL RESOURCES