Sultana Khaya, an activist for Sahrawis' right to self-determination and her family have been under a de facto house arrest since November 2020. Security forces surrounding their home repeatedly and violently forced Sultana Khaya and her sister Luaara back inside their house when they attempt to leave. Security forces have also broken into their homes on several occasions, physically assaulting and raping the sisters. On March 16, 2022, a group of American activists successfully accessed Sultana Khaya's house but refrained from disclosing details of the visit for security reasons. While conditions of the house arrest were recently eased, police presence around Sultana Khaya's house have not been completely lifted.
TAKE ACTION: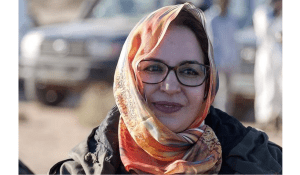 Please take action as-soon-as possible. This Urgent Action expires on June 1, 2022.
Write a letter in your own words or using the sample below as a guide to one or both government officials listed. You can also email, fax, call or Tweet them.
Click here to let us know the actions you took on Urgent Action 33.21. It's important to report because we share the total number with the officials we are trying to persuade and the people we are trying to help.
---
CONTACT INFORMATION
Prime Minister of the Kingdom of Morocco
Mr. Aziz Akhannouch
Palais Royal- Touarga Rabat, Morocco Fax: +212537771010 Twitter:
@ChefGov_ma
Her Highness Princess Lalla Joumala
Embassy of the Kingdom of Morocco 3508 International Drive NW Washington, DC 20008 Phone: 202 462 7979 I Fax: 202 462 7643 Email:
[email protected]
Twitter:
@morocco_usa
Salutation: Your Highness
SAMPLE LETTER
Your Excellency, On March 16, 2022, a group of at least four American activists from 'Unarmed Civilian Protection' and 'Human Rights Action Center', two international non-profit organizations working to promote human rights and peace building worldwide, managed to visit the home of
Sultana Khaya
, a peaceful activist for Sawhrawi self-determination who has been arbitrarily confined to her home in Boujdour, Morocco, since November 2020. Since then, security forces have decreased their presence outside Sultana Khaya's house but have reportedly increased their presence in the peripheries of her neighbourhood. Between March 17 and 20, 2022, neighbours, activists and family members were able to access Sultana Khaya's house and stand in solidarity with her despite the presence of security agents in the neighbourhood. This soon changed as security forces in plain clothes began assaulting and harassing women as they left Sultana Khaya's house. On March 21, 2022, at least five women were stopped on their way out of Sultana Khaya's house; they were pushed around by security agents in plain clothes. A woman activist told Amnesty International that security forces beat her and snatched her phone as she left Sultana Khaya's house on March 21, 2022. She said that the security agents insulted her and refused to give her back her phone. Sultana Khaya's sister Luaara Khaya, who together with another sister and their mother, is also being held in the same house under de facto house arrest, has been able to leave the house to run errands on several occasions since March 16, and on April 5, 2022, she was able to go to a local administration to renew her passport and came back into the house without being stopped. Sultana Khaya's mother was able to leave her house and go to Laayoune for medical treatment of shoulder and muscles injuries resulting from police violence. I urge you to ensure a prompt, thorough, independent, impartial, transparent, and effective investigation into the security forces' abusive force and attacks against her and her family, including the report of rape and sexual assault, and ensure that those suspected of responsibility are brought to justice in fair trials. I also urge you to ensure that Sultana Khaya and her family are provided with access to justice and effective remedies, including adequate compensation, and guarantee of non-repetition for the violations of human rights to which they have been subjected. I further urge you to immediately announce an end the arbitrary house arrest against Sultana Khaya and grant safe and free access to her domicile for all who wish to visit her, including Sahrawis. Sincerely,
[YOUR NAME]
ADDITIONAL RESOURCES