On 18 February, Chad's Criminal Court sentenced human rights defender Baradine Berdei Targuio to three years in prison and a fine for 'breach of the constitutional order'. He was arrested on 24 January 2020 and spent nearly seven months in incommunicado detention before being charged in August 2020 with breach of national security, illegal possession of weapons, assault, and battery. Two days before his arrest, the human rights defender shared a Facebook post on the President's suspected ill-health and penned an open letter to the President, expressing concern for the human rights situation in the Tibesti region in Chad. Amnesty International is concerned that Baradine Berdei Targuio's detention is a sanction against his work as a human rights defender and therefore calls for his immediate and unconditional release.
TAKE ACTION: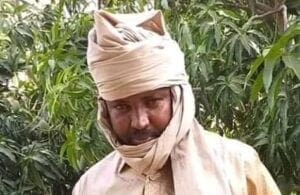 Write a letter in your own words or using the sample below as a guide to one or both government officials listed. You can also email, fax, call or Tweet them.
Click here to let us know the actions you took on Urgent Action 7.20. It's important to report because we share the total number with the officials we are trying to persuade and the people we are trying to help.
CONTACT INFORMATION
Excellency Minister Djimet Arabi Minister of Justice
Ministère de la Justice                                    N'Djamena, Tchad Email:
[email protected]
Ambassador Ngote Gali Koutou
Embassy of the Republic of Chad 2401 Massachusetts Ave NW Washington, DC 20008 Phone: 202 652 1312 Email:
[email protected]
Salutation: Dear Ambassador
SAMPLE LETTER
Your Excellency, I am writing to you in concern of human rights defender Baradine Berdei Targuio, the President of the Chadian Human Rights Organization. On 18 February, the Criminal Court sentenced Baradine Berdei Targuio to three years in prison and a fine of 250,000CFA (USD 430) for 'breach of the constitutional order'. The human rights defender was arrested at his home on 24 January 2020 by armed and masked men in front of his family. He subsequently spent nearly seven months in incommunicado detention, allegedly at the National Security Agency (ANS). He was eventually presented to a prosecutor on 21 August 2020 -and to an investigative judge on 24 August 2020. They charged him with breach of national security, illegal detention of weapons, assault, and battery. These charges were eventually dropped by the Criminal Court and replaced with 'breach of the constitutional order'. On 22 January 2020, two days before his arrest, Baradine Berdei Targuio posted on Facebook that the President might have been seriously ill and was in France for treatment. He had also addressed an open letter to the President on the human rights situation in the Tibesti region in Chad, in the context of a state of emergency. Amnesty International believes that Baradine Berdei Targuio's conviction, as his arrest and first charges, are a punishment for the exercise of his right to freedom of expression, and therefore that his current detention is arbitrary in violation of Chad's obligations under both the African Charter on Human and Peoples' Rights and the International Covenant on Civil and Political Rights. Furthermore, I am concerned for Baradine Berdei Targuio's health in the context of the COVID-19 pandemic and urge you to follow Resolution 466 – 2020 of the African Commission on Human and Peoples' Rights, which calls states to release human rights defenders as part of wider measures to reduce overcrowding in prisons and other places of detention. In this regard, I urge you to immediately and unconditionally release Baradine Berdei Targuio who is detained solely for his peaceful human rights work. I also urge you to stop using the criminal justice system to target and harass human rights defenders and ensure a safe and enabling environment for them. Sincerely,
[YOUR NAME]
ADDITIONAL RESOURCES