Hüseyin Galip Küçüközyiğit, a former legal advisor at the Prime Ministry who was dismissed following the 2016 coup attempt, has been missing since 29 December 2020. His family suspect him to have been abducted and subjected to enforced disappearance and all their efforts to locate him since have been in vain. The authorities have denied that he is in official custody. Turkish authorities must promptly investigate to determine the whereabouts of Hüseyin Galip Küçüközyiğit and urgently inform his family.
TAKE ACTION: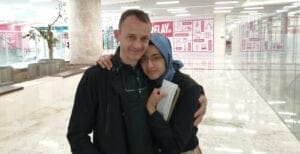 Write a letter in your own words or using the sample below as a guide to one or both government officials listed. You can also email, fax, call or Tweet them.
Click here to let us know the actions you took on Urgent Action 11.21. It's important to report because we share the total number with the officials we are trying to persuade and the people we are trying to help.
CONTACT INFORMATION
Ahmet Akça
Ankara Chief Public Prosecutor Hacı Bayram Veli Mahallesi Atatürk Bulvarı No:40 Sıhhiye/Ankara Fax: +90 312 309 4570 Email:
[email protected]
SAMPLE LETTER
Dear Chief Public Prosecutor, I am writing regarding the suspected enforced disappearance of Hüseyin Galip Küçüközyiğit who was last heard of on 29 December 2020 at 3.40pm when he called his daughter Nursena Küçüközyiğit to arrange a meeting with her the next day in Kocaeli. Having tried to contact her father on numerous occasions in the following two days, the daughter reported him missing on 31 December at the local police station. On 4 January, Nursena Küçüközyiğit tried to also report her father's disappearance to the Kocaeli Chief Public Prosecutor but was told they were waiting for the referral from the police. On 5 January, her lawyer petitioned the Ankara Chief Public Prosecutor requesting that Hüseyin Galip Küçüközyiğit's disappearance or abduction be investigated. On 27 January, the Kocaeli Chief Public Prosecutor ruled that there were no grounds for a prosecution. On 29 January, Nursena Küçüközyiğit was informed that a prosecutor had been assigned to the case in Ankara. In recent years, several men have disappeared in similar circumstances and appeared in official custody months later. Some of them described later in court the circumstances of their enforced disappearance and the torture and other ill-treatment they had been subjected to. I urge you to ensure a prompt, impartial and independent investigation is carried out to determine the whereabouts of Hüseyin Galip Küçüközyiğit and the circumstances of his suspected enforced disappearance; any information relating to his location and wellbeing must urgently be shared with his family. I also urge you to ensure that all those suspected of criminal responsibility are brought to justice in fair trials. Yours sincerely,
[YOUR NAME]
ADDITIONAL RESOURCES