Ramzy Razeek, a retired government official and social media commentator, has been detained since 9 April 2020 without charge or proper access to a lawyer. Suffering from several medical complications, his family is worried about his health conditions in the overcrowded and unhygienic prison facilities. Detained for peacefully exercising his right to freedom of expression, Ramzy Razeek must be immediately and unconditionally released, and all charges against him dropped.
TAKE ACTION: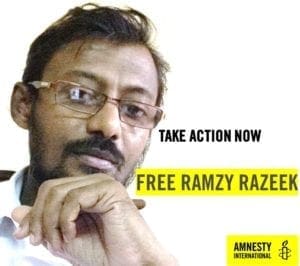 Write a letter in your own words or using the sample below as a guide to one or both government officials listed. You can also email, fax, call or Tweet them.
Click here to let us know the actions you took on Urgent Action 85.20. It's important to report because we share the total number with the officials we are trying to persuade and the people we are trying to help.
Acting Inspector General of Police
Mr. Chandana Depal Wickramaratne
Due to postal restrictions caused by COVID-19, please only send physical mail to the Embassy
Fax: +94 112 440440 Email:
[email protected]
Ambassador Rodney Perera
Embassy of Sri Lanka 3025 Whitehaven Street NW, Washington DC 20008 Phone: 202 483 4025 I Fax: 202 232 7181 Email:
[email protected]
Salutation: Dear Ambassador
Dear Mr. Wickramaratne, I am deeply worried about the fate of Ramzy Razeek, who was arbitrarily detained on 9 April 2020 for simply exercising his right to peaceful freedom of expression on Facebook. Further to my concern is the fact that Ramzy's family have not been allowed to communicate with him since the arrest. With several health complications, including arthritis, kidney failure, liver problems and leg ulcers, it is critical that he receives adequate access to healthcare. I understand that Ramzy Razeek filed a complaint through email to you at 11:04 AM on 9 April 2020 for death threats he received in response to recent social media posts on his private Facebook account. However, instead of thoroughly and effectively investigating the threats, the Criminal Investigation Department (CID) arrested Ramzy for peacefully exercising his right to freedom of expression. According to his lawyers, the Police cited the International Covenant on Civil and Political Rights (ICCPR) Act and Computer Crimes Act for his arrest. The use of the ICCPR Act to detain and prosecute people for peacefully exercising their right to freedom of expression is a clear violation of international human rights law, and an infringement of the rights guaranteed by the constitution of Sri Lanka. Ramzy Razeek is now at heightened risk due to the COVID-19 pandemic. As this devastating virus sweeps across the globe, prisons are at risk of becoming a dangerous hotspot for COVID-19 outbreaks. It is more important than ever that states take urgent measures to protect all those who are deprived of their liberty, especially by releasing all individuals who are held simply for peacefully expressing their human rights. I therefore, urge you to drop all charges against Ramzy Razeek and immediately and unconditionally release him; pending his release, provide him with adequate access to healthcare, and contact with family and lawyers; and stop using ICCPR Act to threaten, harass and prosecute dissidents and activists for peacefully expressing their opinions. Yours sincerely,
ADDITIONAL RESOURCES