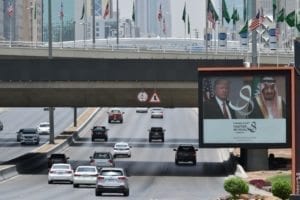 As President Trump embarks on his first foreign visit to attend a summit in Saudi Arabia, counterterrorism and security will dominate his discussions with Gulf and Arab state leaders. The president is also expected to unveil a multi-billion dollar arms deal with Saudi Arabia. The glaring absence of human rights from Trump's agenda will only embolden further violations in a region where governments flout the rights of their own people in the name of the fight against terror, and violate international humanitarian law in conflicts fueled on large part by U.S. arms transfers, said International.
"Human rights are under continuous attack in the Gulf. Saudi Arabia and other Gulf countries have been using counterterrorism as an excuse to ruthlessly crush and persecute critics, peaceful dissidents and human rights defenders," said Margaret Huang, executive director of Amnesty International USA.
"Even as families are killed inside their houses and internationally banned weapons are used by the Saudi led coalition in Yemen, the Trump administration is planning a multi-billion dollar arms deal with Saudi Arabia. This brazen disregard for human rights and humanitarian law will only serve to further embolden states in the Gulf and around the globe in their pursuit of 'security' at the expense of people's basic rights."
U.S. arms transfers
In a recent visit to Saudi Arabia, the UN special rapporteur on human rights and counter terrorism concluded that Saudi Arabia had failed to take concrete steps to investigate possible war crimes committed by its own forces in the conflict in Yemen.
Meanwhile, the United States remains the biggest supplier of arms to Saudi Arabia.
Amnesty International has documented a wide array of violations of international law by all parties to the conflict in Yemen, including the Saudi Arabia-led coalition. The coalition has carried out relentless airstrikes, killing and injuring civilians and destroying civilian homes, property and infrastructure in indiscriminate attacks and attack on civilian objects. Several of these attacks, some of which amount to war crimes, used U.S. arms.
"The United States continues to fuel serious human rights violations that have caused devastating civilian suffering in Yemen, through arms transfers to Saudi Arabia" said Huang.
"There is damning evidence that war crimes have been committed by the Saudi Arabia-led coalition. The United States must immediately halt all arms transfers to members of the coalition for use in Yemen and push for an independent and effective investigation into the numerous violations documented in this forgotten war."
Crackdowns on human rights
The UN special rapporteur on human rights and counter terrorism also concluded in May 2017 that the country's terrorism laws did not comply with international standards, and that Saudi Arabia "must stop using counter-terrorism legislation against people peacefully exercising their rights to freedom of expression, association and assembly."
Amnesty International has documented a continuous and systematic crackdown by authorities in Saudi Arabia against human rights activists, dealing heavy blows to the last vestiges of the country's embattled civil society. Activists are being detained and prosecuted, based on vague and overly broad charges using anti-terrorism legislation and laws designed to stifle peaceful criticism. Those detained, on trial or serving prison sentences include several members of the Saudi Civil and Political Rights Association, an independent human rights organization formed in 2009, which the authorities closed down in 2013.
"The Saudi authorities shamelessly hide behind draconian counterterrorism laws to justify the convictions of peaceful human rights defenders. One by one, activists in Saudi Arabia are vanishing", said Huang.
Other Gulf countries have also used the cover of security and counterterrorism to crack down on dissent. The government of Bahrain has continued to curtail freedom of expression and the right to peaceful assembly, detaining prominent human rights defenders, stripping Bahrainis of their citizenship, violently cracking down on protests and dissolving opposition parties.
In the UAE, authorities arbitrarily restrict the rights to freedom of expression and association, detaining and prosecuting government critics, opponents and foreign nationals under criminal defamation and anti-terrorism laws. Enforced disappearances, unfair trials and torture and other ill-treatment of detainees are also common.