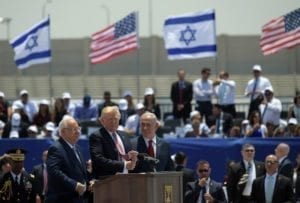 President Trump will travel to Israel today to meet with Israeli and Palestinians officials to press for a peace deal between the two sides. Trump has opposed the continued construction of Israeli settlements in the Occupied Palestinian Territories.
Since President Trump's inauguration, the Israeli government has accelerated their settlement expansion efforts by announcing the construction of thousands of additional housing units in existing settlements and two new settlements – the first in 20 years.
"While President Trump's shortcomings when it comes to  human rights are well known, we commend his attempt to to broach the subject of continued settlement construction. Illegal Israeli settlements have been a hallmark of Israel's 50 years of oppression and human rights violations against the Palestinian people. President Trump has an opportunity to improve his record on human rights by making it clear that the United States will not support Israel's continued violations and denial of Palestinian rights."
Amnesty International  opposes settlements in Israeli-occupied territory, a serious  violation of international humanitarian law, and works against violations of human rights on both sides of the conflict.