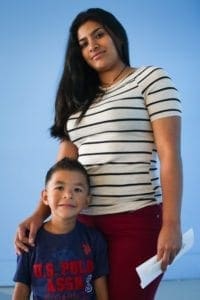 After over 600 days in immigration detention, Wendy and her three-year-old son Diego were granted bond and released by an immigration judge earlier this week. But the Trump administration has appealed to put them back behind bars, despite the fact that the mother and son have already traveled to Houston to be with family while their asylum claim is pending.
"It is profoundly cruel for the Trump administration to deny Diego and Wendy's right to freedom just days after their release," said Naureen Shah, director of campaigns at Amnesty International USA. "This is a toddler who has learned to walk and talk in a jail facility, just because his family was trying to find safety. To yank him away from the people who love him and place him and his mother back in detention is monstrous. This administration has shown an outrageous hostility to immigrants and refugees that must be resisted at every turn. People fleeing violence should not be treated like criminals. The practice of jailing families should be shut down once and for all."
Diego and Wendy – previously known by pseudonyms Josué and Teresa — fled kidnapping threats and physical and sexual assault in Honduras before arriving in the U.S. seeking asylum. They were imprisoned at Berks County Residential Center for over 22 months.
Amnesty International USA launched a campaign in June to end the detention of children and their parents in Berks County Residential Center. Currently, there are dozens of children and parents jailed at Berks, one of three such family detention centers, which are akin to jails, in the United States. At least three other families at Berks have been held for more than 600 days.
Many of the families held at Berks come from a region known as the Northern Triangle of Central America, which includes El Salvador, Guatemala, and Honduras. The Northern Triangle is an area widely recognized for its extreme levels of violence and insecurity, which Amnesty has documented extensively.