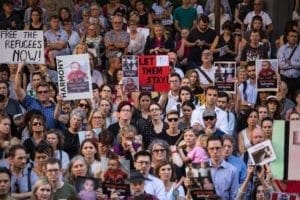 Responding to the news of the tragic death of an Iranian refugee on Manus Island, Graham Thom, Refugee Coordinator at Amnesty International Australia, said:
"This is extremely sad and heartbreaking news. Amnesty International is extending our sincere condolences to the man's family and friends.
"It is not yet clear if his death was a result of self-harm or violence. Irrespective of the cause, Australia must accept liability for the damage its cruel policies are causing refugees.
"This was a man who came seeking Australia's protection, Amnesty International is gravely concerned that he was provided inadequate health care and that his safety was not the paramount consideration.
"This death is yet another bleak tragedy to arise out of the ongoing suffering and tensions on Manus Island. There must be an independent, impartial, prompt and effective investigation into his death.
"It is absolutely heartless of the Australian government to be playing politics with people's lives – this must end now. Prime Minister Turnbull and Minister Dutton must immediately evacuate the offshore camps on Nauru and Manus, they must bring the people to safety in Australia now."