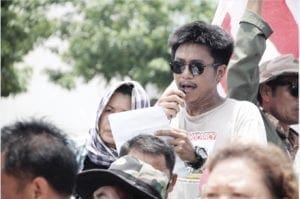 Reacting to the guilty verdict against pro-democracy activist Jatupat Boonpattararaksa (""), who was today sentenced to two-and-a-half years in prison for violating Thailand's lèse-majesté law outlawing criticism of the royal family after sharing a BBC article on Facebook, Josef Benedict, Amnesty International's Deputy Campaigns Director for Southeast Asia and the Pacific, said:
"This verdict shows the extremes to which the authorities are prepared to go in using repressive laws to silence peaceful debate, including on Facebook. It is outrageous that Pai Dao Din is now facing more than two years behind bars just for sharing a news article.
"Pai Dao Din should never have had to face trial in the first place. His guilty plea should not be considered as an admission of criminal responsibility as the courts regularly halve sentences for defendants who have pleaded guilty in such cases. Pai Dao Din must be released immediately and unconditionally.
"Thailand needs to stop using the courts to harass and imprison peaceful activists, and take its international legal obligation to respect freedom of expression seriously."