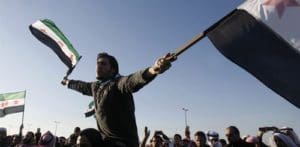 CONTACT: [email protected]
The US-led coalition's use of white phosphorus munitions on the outskirts of al-Raqqa, Syria is unlawful and may amount to a war crime, Amnesty International can confirm after verifying five videos of the incident.
The videos, published online on 8 and 9 June, showed the coalition's artillery strike using the munitions over the civilian neighborhoods of Jezra and el-Sebahiya. International humanitarian law prohibits the use of white phosphorus near civilians.
"The use of white phosphorus munitions by the US-led coalition gravely endangers the lives of thousands of civilians trapped in and around al-Raqqa city, and may amount to a war crime under these circumstances. It can cause horrific injuries by burning through flesh and bone and can pose a threat even weeks after being deployed by reigniting and burning at extremely high temperatures," said Samah Hadid, Middle East Director of Campaigns at Amnesty International.
"The US-led forces must immediately investigate artillery strikes on Jezra and el-Sebahiya and take all possible measures to protect civilians. The use of white phosphorus in densely populated areas poses an unacceptably high risk to civilians and would almost invariably amount to indiscriminate attacks."
Amnesty International verified and cross-checked five videos that surfaced on 8 and 9 June 2017. The videos clearly show different angles of a white phosphorus air-burst and the same areas being targeted by burning elements of white phosphorus landing upon low-level buildings. Repeated use of white phosphorous in circumstances where burning elements are likely to come into contact with civilians violates international humanitarian law.
According to local monitoring group "Raqqa is Being Slaughtered Silently," and other local sources, at least 14 civilians were killed in one of the strikes. Activists from "Raqqa is being slaughtered silently" told Amnesty International that, in addition to the local civilian population, many internally displaced people from western Raqqa were also seeking refuge in the areas at the time of the attack.
US-made white phosphorus

According to Amnesty International's analysis, the white phosphorus munition artillery projectiles seen in the footage are most likely US-made 155mm M825A1's.
White phosphorus is most often used to create a dense smoke screen that can obscure the movement of troops from enemy forces, and to mark targets for further attack. While its use for such purposes is not prohibited, extreme caution is warranted whenever it is deployed. It should never be used in the vicinity of civilians.
"Force protection must not take priority over protection of civilians. US-led coalition and SDF forces must refrain from using powerful explosive weapons and imprecise weapons in populated areas and take all possible measures to protect the civilian population," said Samah Hadid.
Confirmation of white phosphorus use in Mosul, Iraq

The US-led coalition has confirmed its recent use of white phosphorous in the Iraqi city of Mosul but has yet to confirm its use in al-Raqqa. In Mosul, the US-led coalition claimed that it used white phosphorous to create a smoke screen to assist civilians in their escape from areas of the city under the control of the armed group calling itself Islamic State (IS).
Background

Fighting has been intensifying in al-Raqqa as Syrian Democratic Forces (SDF) backed by the US-led coalition are pushing to gain control the city from IS. Hundreds of thousands of civilians remain trapped in and around the city.
Amnesty International is monitoring the conduct of all parties to the conflict in Raqqa, in accordance with their obligations under international humanitarian law and applicable human rights law.