In response to Moscow City Court's decision to suspend the deportation to Uzbekistan of openly gay journalist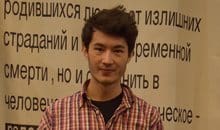 (better known by his journalist alias Ali Feruz) but to keep him in detention while his case is reviewed by the European Court of Human Rights, Amnesty International's Deputy Director for Europe and Central Asia, Denis Krivosheev, said:
"The suspension of Ali Feruz's deportation to Uzbekistan – where he faces a real risk of persecution and torture and homosexuality is a crime – is a positive step. However, his continued detention despite his claims he has been beaten is disgraceful. He has committed absolutely no crime and it could take months or even years before a final decision by the European Court of Human Rights."
"Ali Feruz complained that security officials beat him during transfer to the detention center and showed bruises during today's court hearing. The judge decided to ignore these shocking allegations."
"The Russian authorities must immediately release Ali Feruz. They must ensure his physical safety and effective protection from forcible return to Uzbekistan."
Background
Immigration-related detention should always be used only as a last resort, for the shortest time possible and only when necessary and proportionate to the objective of preventing absconding, to verify identity, or ensure compliance with a deportation order.
Ali Feruz, a human rights activist and a journalist for independent Novaya Gazeta, was detained on August 1. He says he was beaten during transfer from the court.